When I wrote the first book in my lighthearted Regent Mysteries series, WITH HIS LADY'S ASSISTANCE (2011), I knew it was romantic, and I knew it was going to be a series featuring the dashing Captain Jack Dryden and Lady Daphne Chalmers. But I did not know how I was going to sustain a fresh romance in subsequent books.
Quite naturally, Jack and Daphne fall in love in Book 1. Thereafter, they team up to solve mysteries for the Prince Regent. In the second book, A MOST DISCREET INQUIRY, they marry, and many obstacles get in the way of the consummation of their marriage.
When I got to the third book, I knew that as much as Jack and Daphne loved one another, their romance had been done. Readers needed something fresh. So in THE THEFT BEFORE CHRISTMAS, two lonely souls of disparate ages are spending Christmas with Jack and Daphne, and while their hosts are off solving a mystery for the Prince Regent, they fall in love. Readers tell me the romantic subplot in the book is "precious." Here's what one reader on Goodreads had to say: "The romantic subplot with two side characters was surprisingly affecting; I was really rooting for them both by the end, and considering that this is a novella, that's saying quite a lot."
(As an aside: Book 1, WITH HIS LADY'S ASSISTANCE, was a finalist for Best Historical in the 2011 International Digital Awards, and THE THEFT BEFORE CHRISTMAS was a finalist for Best Short Historical in the 2013 International Digital Awards.)
In this month's release, AN EGYPTIAN AFFAIR, Jack and Daphne's investigation takes them to Egypt, and Daphne knows she cannot go there without bringing her sister Rosemary, who is mad for anything to do with Egypt. Rosemary's also mad for a Captain Cooper, even though he's never shown any particular attraction to her. Accompanying them on the journey is the bespectacled Cambridge scholar, Stanton Maxwell. As Rosemary's life is jeopardized, she comes to realize it's Mr. Maxwell who is possessed of heroic qualities. I hope readers enjoy this romance. As well as the mystery.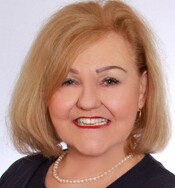 Cheryl Bolen is the New York Times Bestselling Author of more than a dozen Regency- set historical romances published by Harlequin Historical and Zebra Historical. Her first book, A Duke Deceived, won her the title of Notable New Author and was a runner up for the Holt Medallion for Best First Book. Her One Golden Ring won the Holt Medallion for Best Historical. Her books have been finalists for many writing awards, including the Daphne du Maurier, have been Barnes & Noble bestsellers, and have been translated into French, Portuguese, Swedish, Norwegian, Italian, Polish, and Japanese.
Admitting to a fascination over dead Englishwomen, she is a regular contributor to the Regency Plume, The Regency Reader and the Quizzing Glass. Many of her interesting articles on Regency England can be found at her website.
She holds an English/journalism degree from the University of Texas and an MS from the University of Houston. Before her first book was published in 1998, she enjoyed careers as a newspaper reporter/editor and as a public school English teacher.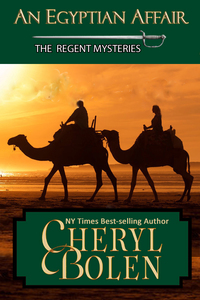 A fresh romance with each new mystery . . .
While Captain Jack Dryden would lay down his life for the Regent, he draws the line at endangering his wife in the dark alleyways of Cairo-the place where the Regent's friend and procurer of antiquities has gone missing.
But Lady Daphne Dryden will not be denied the opportunity to see swaying palms, crumbling pillars, and soaring pyramids in exotic Egypt. She even insists on bringing her youngest sister, Rosemary, who's enamored of all things Egyptian. The Regent insists on sending Stanton Maxwell, England's most imminent expert on Egyptology, as their interpreter and his own soldiers as their protectors.
Once in Cairo, Jack and Daphne begin their inquiries, inquiries which almost certainly cause the murder of one woman and the abduction of Lady Rosemary. Will Jack and Daphne's wits-and the unexpected bravery of Mr. Maxwell-be enough to extricate them from danger and unmask the evil-doers?