Why on earth do you do these things to your characters? That's a question I've heard often from readers, and one I feel compelled to answer. I'll probably get that question a lot more once people read A WEE DOSE OF DEATH, in which Peggy's dear friend Karaline gets shot.
So, why do I do it?
Because there wouldn't be much story without it. Because it works. Because the story line needs it. Because it seemed right at the time. Because I couldn't think of any other way to handle it.
All of the above.
I do have to admit feeling really bad about shooting Karaline. Okay, okay. I know I didn't shoot her. But I might as well have pulled the trigger myself. As I write, I feel what my characters are feeling, think what they're thinking, and react/respond as they do.
That's meant some sleepless nights throughout the journey, agonizing over whether or not I really should push Biscuit off a dock, shoot Karaline, kill Melissa's fiancé, or send Harper off on a wild-goose chase. It doesn't matter which series I'm writing. The answer is the same: Yes.
One of the questions I wrestled with as I wrote A WEE MURDER IN MY SHOP, the first ScotShop mystery, was Why is Dirk, a 14th-century Scottish ghost, here in the 21st century? I even had Karaline ask him that, and the fact that Dirk had no idea why he was here was fairly devastating to him. The answer, though, is here in A WEE DOSE OF DEATH. Dirk figures out his purpose, his mission, his gift.
And it's pretty cool!
I found myself crying as I wrote that scene, and I hope you'll be moved by it as well.
All he needed, to find his gift, was for Karaline to get shot.
BANG!
It's so much fun being able to make things happen.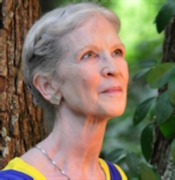 Fran Stewart is the author of the Biscuit McKee Mysteries as well as a standalone mystery A SLAYING SONG TONIGHT, about a Depression-era serial killer whose favorite song is Jingle Bells. Her new ScotShop Mystery Series from Berkley Press begins with A WEE MURDER IN MY SHOP.
Fran lives quietly with various rescued cats beside a creek on the other side of Hog Mountain, Georgia.
She sings alto with a community chorus and volunteers at her grandchildren's school library. She is a member of Sisters in Crime and Mystery Writers of America.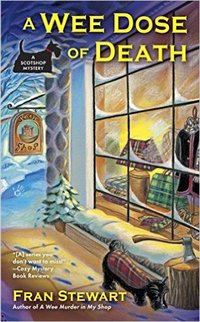 A second dose of Scottish charm from the author of A Wee Murder in My Shop.
While business is booming at the ScotShop in Hamelin, Vermont, proprietor Peggy Winn doesn't have time to toast her good fortune thanks to her hot-tempered, fourteenth-century Scottish companion. Being thrust into the modern world hasn't been easy for Dirk, but Peggy is at her wit's end trying to keep the ghostie galoot in line.
But when the local police chief finds the body of Peggy's friend Karaline's college professor in a deserted mountain cabin, everyone is thrown for a loop. It seems the secretive professor may have been killed over his ecological work, an idea that's only reinforced when Karaline herself is shot. Now Peggy and Dirk must set aside their differences to put the cold-blooded killer under loch and key…