I didn't set out to create a series with a sleuthing couple. But Lizzie Stuart, my crime historian protagonist, found John Quinn, Philadelphia homicide detective, intriguing when they met in Cornwall England in Death's Favorite Child. In A Dead Man's Honor, when Quinn astonishes her by applying for a position at the Virginia university where she is going to spend a year doing research, she is both dismayed and even more attracted.
This relationship between my amateur sleuth and a police officer is common in mystery novels. There are even series – at least three or four — with a male amateur sleuth who is involved with a female cop. The reason for these pairings is often convenience. If the amateur sleuth has a relationship with a police investigator – whether romance or friendship – the sleuth can then:
gain access to crime scenes

gain access to autopsy and crime lab reports

find out what witnesses and various suspects claim

have a man (or woman) with a gun handy when one is needed
The relationship also introduces on-going tension between two primary characters because the amateur sleuth – prone to getting into situations involving murder and other crimes – has someone who objects to her (or his) sleuthing. This means the characters usually don't plunge into a romantic relationship. Readers are able to enjoy the romantic tension.  
In the case of my crime historian and her cop, there are other elements to their relationship that I enjoy exploring:
an interracial relationship

different personality types

different family backgrounds
Lizzie is a born researcher. She loves reading old newspapers on microfilm and digging through dusty archives. Quinn is a born investigator. As his former partner tells Lizzie in the first book in the series, when Quinn sees a dead body, he want to know how it got that way. But he is into following the procedures expected of police investigators. Although she is a criminal justice professor and knows the procedures, Lizzie's primary concern is the people involved.
Aside from the crimes from the past and in the present that occur in each book in the series and the two short stories, there is a subplot involving Lizzie's mother that spans the first five books. It continues in the sixth book that I am working on (as the earlier books are being reissued by a new publisher). There are also unanswered questions about Quinn, who is not prone to talk about his dead father or his dead wife. Of course, since the books are told from Lizzie's first person point of view, our perception of Quinn are filtered, but not blocked, by how she sees him. The perceptive reader realizes Lizzie's perceptions are shaped by her feelings about him and their relationship.
Because the series is not graphic, but also not cozy, bad things happen – usually off-stage. The occasional violence is balanced by the evolving relationship between the two main characters. Readers tell me that they like Lizzie and Quinn. So do I.
A Lizzie Stuart Mystery #2
Crime historian Lizzie Stuart goes to Gallagher, Virginia for a year as a
visiting professor at Piedmont State University. She is there to do
research for a book about a 1921 lynching that her grandmother, Hester
Rose, witnessed when she was a twelve-year-old child. Lizzie's
research is complicated by her own unresolved feelings about her
secretive grandmother and by the disturbing pres­ence of John Quinn,
the police officer she met while on vacation in England. When an
arrogant but brilliant faculty member of Piedmont State University is
murdered, Lizzie begins to have more than a few sleep­less nights. A
Dead Man's Honor is a haunting story that will keep you awake nights,
too.
Praise for Frankie Y. Bailey
"She has a tremendous eye and ear." —The Times Union, Albany, New
York
Mystery | Suspense [Speaking Volumes, On Sale: July 23, 2018, e-Book (reprint), / ]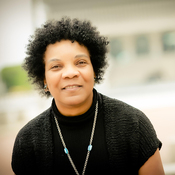 Frankie Y. Bailey is a professor in the School of Criminal Justice at the University at Albany (SUNY). Her areas of research are crime history, and crime and mass media/popular culture and material culture. She is the author of a number of non-fiction books, including local histories and books about crime fiction. Her mystery novels feature Southern-born crime historian, Lizzie Stuart, in five books, beginning with Death's Favorite Child and A Dead Man's Honor. The books are being reissued by Speaking Volumes. Frankie's two near-future police procedurals feature Albany police detective, Hannah McCabe in The Red Queen Dies and What the Fly Saw (Minotaur Books). Frankie has also has written several short stories, including "In Her Fashion" (EQMM, July 2014), "The Singapore Sling Affair" (EQMM, Nov/Dec 2017), and "The Birth of the Bronze Buckaroo" (The Adventures of the Bronze Buckaroo, 2018). She is currently working on a nonfiction book about dress and appearance in American crime and justice, a historical thriller set in 1939, and the plots of the next Stuart and McCabe books. Frankie is a past executive vice president of Mystery Writers of America and a past president of Sisters in Crime.