I am SUPER excited for The Chai Factor by Farah Heron, which is out in June 2019. It's everything I love in a romance: a heroine who makes her own rules, a ton of "opposites attract" tension and a fun situation that brings the characters together. This fun story also touches on some serious and important topics, like dating someone of a different culture and how opening minds will open hearts.  This is an #ownvoices romance and Farah's debut is at the top of my 'to read' list for 2019!
Summary: Thirty-year-old engineer Amira Khan has set one rule for herself: no dating until her grad-school thesis is done. Nothing can distract her from completing a paper that is so good her boss will give her the promotion she deserves when she returns to work in the city. Amira leaves campus early, planning to work in the quiet basement apartment of her family's house. But she arrives home to find that her grandmother has rented the basement to . . . a barbershop quartet. Seriously? The living situation is awkward: Amira needs silence; the quartet needs to rehearse for a competition; and Duncan, the small-town baritone with the flannel shirts, is driving her up the wall.
EXCERPT FROM BAD INFLUENCE by STEFANIE LONDON
Annie padded over to her door and pressed her ear to it. Silence. Maybe he'd left already? But she hadn't heard the front door latch, and it was right next to her room. Ignoring the screeching Do not proceed in her head, she pushed the door open. As quietly as gravity would allow, she tiptoed out into the entryway, which opened directly into the living room.
In the far corner of the room, Joseph sat at her computer desk. All the overhead lights were off, and an eerie bluish glow created a fuzzy halo, silhouetting his broad shoulders. It must have been after 2:00 a.m. Possibly later.
But it wasn't the time or the darkness that made the breath stick in the back of Annie's throat. It was the image on the laptop screen in front of Joseph. A photo was the source of the bluish light, her once favorite photo. They'd gone to the Greek islands for a vacation, and a friend had captured them frolicking in the ocean. Joseph had Annie on his shoulders, with her almost toppling off from laughter and his face radiating a pure, uninhibited joyfulness that he rarely showed the outside world. It was the week before she'd found out that her mother had breast cancer.
Before everything crumbled.
Annie stepped back. She wasn't ready to face Joseph like this, and she should have stayed in her room until he left. But she backed up too quickly and bumped into the side table, the corner of it jabbing into her lower back so that she had to stifle a yelp. In the silent apartment, the sound might as well have been a gunshot.
Joseph quickly closed the laptop and whirled around. "What are you doing up?"
"I couldn't sleep." She could barely force the words out. Suddenly, everything tumbled down on her like an avalanche. Joseph's return, the creepy photo, the spyware on her computer, the weight of so many angry emails and threats. The dissolution of her friendship with Remi. Tears filled her eyes to the brim, but she blinked furiously, chasing them away with gritted teeth and balled fists, praying he couldn't see her weakness.
He strode toward her. They were enveloped by shadows, with only the twinkle of city lights keeping the room from being pitch-black. Annie curled her hands around the edge of the table behind her, needing something to keep her upright. Each step he took was like a knife twisting in her gut, because at her base level she still craved him like he'd never been away. Her body hadn't gotten the memo that Joseph Preston was not on the menu, because her hands tingled and that sweet spot between her legs pulsed like she was about to get some.
You're not about to get some.
"Were you able to fix it?" she asked. Her voice was barely above a whisper, because anything louder would feel like too much and she wanted to dwell in this limbo between dreaming and the real world.
"It's good as new. All your files are back on there, and there's a backup on the USB hard drive." He was close, but not too close. Not as close as her body wanted. "You shouldn't be staying here alone."
"I'm crashing at Mom and Dad's over the weekend."
His pale eyes were ethereal in the shadows. "Do they know what's going on?"
She shook her head. "They would freak."
"Rightly so," he said. "I want you to call me if you see anything at all suspicious. If you hear a bump in the night, if you get something weird in your mailbox, just…call me."
"No questions asked?"
"I'm always going to ask questions."
She let out a sharp laugh. Of course he would. Joseph never held back on poking and prodding, even if she asked him to back off. That was always the bone of contention between them, because it was the one area where he was happy to dish it out but reluctant to take it in return.
"You haven't changed," she whispered.
"Haven't I?" He took a step closer. "I certainly feel changed. But I'm not about to stay quiet when I think your safety is at stake."
"I'm not your concern. This issue isn't your concern." That was a steaming pile of bullshit, and she knew it. She'd brought him here; she'd involved him.
"Will you promise to call me if something seems off?" His tone was hard now, jagged. "I don't care if I'm the last resort after you've called everyone else you know. I'm telling you, if you need me, I will be here."
"This time." She couldn't stop the bitter little words from popping out, her nerves frayed and brittle. "I shouldn't have—"
"Yeah, you should have."
They stood in the dark, the air so thick between them that Annie wondered if he might need to swim the last few steps toward her. Beneath the oversize flannel shirt she'd worn to bed, her body was wound tighter than a spring.
"I don't want to get into this now." She bunched the ends of her nightshirt in her hands, trying so hard to remember why she hated him.
He left you when you needed him most. He has no regard for your family or your feelings. He was going to marry someone else with the ring meant for you.
But those thoughts had cycled in her head so many times that they'd lost color and meaning. Instead of growing like a bonfire, they'd become dull and soft.
"Annie." He came closer, the sound of her name like a plea and a prayer.
(C) Stefanie London, Sourcebooks Casablanca, 2019
Bad Bachelors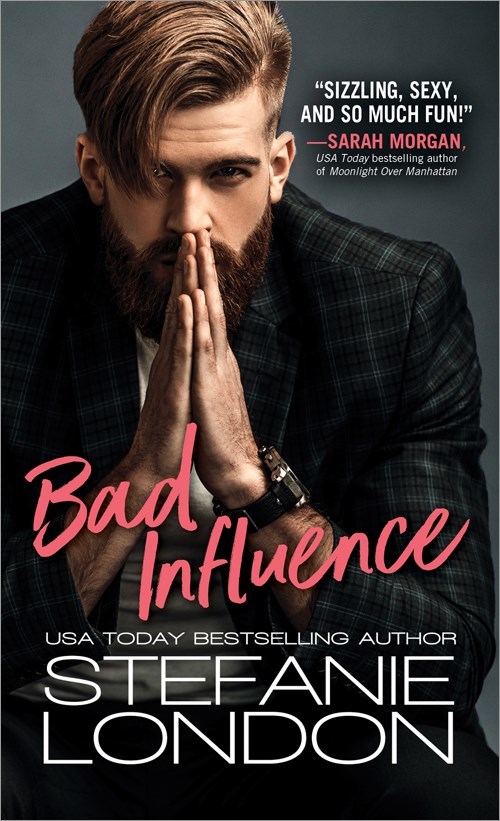 Annie Maxwell had her whole life figured out…until her fiancé left her when his career took off. If that wasn't bad enough, every society blog posted pictures of him escorting a woman wearing her wedding ring. To help the women of New York avoid men like her ex, she created the Bad Bachelors app. But try as she might, Annie just can't forget him…
Outside his stellar career, CEO Joe Preston has made a lot of mistakes. None was worse than leaving the love of his life when she needed him most. Now, he's ready for a second chance. He may still be one heck of a bad influence, but when Annie's safety is threatened by a hacker, Joe is the only one who can save her—and he'll do whatever it takes to win her back. But will their hard-won bond survive the revelation that Annie is the one pulling the strings behind Bad Bachelors?
Romance Contemporary [Sourcebooks Casablanca, On Sale: February 26, 2019, Mass Market Paperback / e-Book, ISBN: 9781492655237 / eISBN: 9781492655244]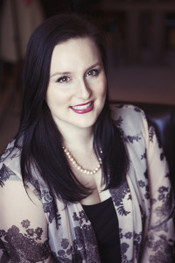 Books that make you laugh a little, and love a lot.
Stefanie London is the USA Today bestselling author of over fifteen contemporary romances and romantic comedies.
Stefanie's books have been called "genuinely entertaining and memorable" by Booklist, and her writing praised as "Elegant, descriptive and delectable" by RT magazine. Her stories have earned prestigious awards such as the RT Top Pick and have achieved bestseller status with USA Today and iBooks.
Growing up, Stefanie came from a family of women who loved to read. After sneaking several literature subjects into her 'very practical' Business degree, she got a job in Communications. But writing emails for CIOs didn't fulfil her creative urges, so she turned to fiction and was finally able to write the stories that kept her mind busy at night.
Originally from Australia, she now lives in Toronto with her very own hero and is currently in the process of doing her best to travel the world. She frequently indulges in her passions for good coffee, lipstick, romance novels and anything zombie-related.