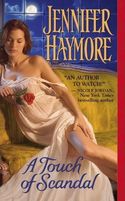 April 2010
On Sale: April 1, 2010
Featuring:
Kate Fisk; Garrett James
432 pages
ISBN: 0446540277
EAN: 9780446540278
Mass Market Paperback
$6.99
Romance Historical
Buy at Amazon.com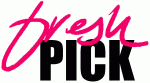 Fans rave about this historical romance
A Touch of Scandal
by Jennifer Haymore
The last thing Garrett, Duke of Calton, expects to find while tracking his sworn enemy is the delectable, mysterious Kate. This beautiful servant girl rouses a longing the battle-scarred ex-soldier had never hoped to feel again. But when she turns out to be the sister of the man he seeks, he's convinced he's been betrayed.
Kate knows her duty to her family, yet how can she ignore Garrett's powerful pull on her heart? Or the heady temptation of his stolen-and sizzling-kisses? Scandal has followed the duke since the war. Now the greatest shock of all is on its way-the one that can separate Garrett and Kate forever.

A classic tale woven with lies and hatred, while also filled with warmth and all-consuming love.