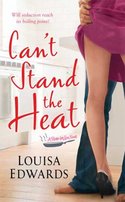 Recipe for Love #1
September 2009
On Sale: September 1, 2009
Featuring: Adam Temple; Miranda Wake
368 pages
ISBN: 0312356498
EAN: 9780312356491
Mass Market Paperback
$6.99
Romance Contemporary
Buy at Amazon.com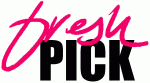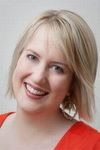 Can't Stand the Heat by Louisa Edwards
For sharp-tongued food critic Miranda Wake, the chance to spend a month in Adam Temple's kitchen to write an exposé is a journalistic dream come true. Surely Miranda can find a way to cut the hotshot chef down to size once she learns what really goes on at his trendy Manhattan restaurant. Trouble is, she never expected Adam to uncover her most embarrassing secret: she has no idea how to cook.
As for Adam, well, he's not about to have his reputation burned by a critic who doesn't even know the difference between poaching and paring. He'll just have to give the tempting redhead a few private lessons of his own . . . teaching her what it means to cook with passion.

Seduction reaches a boiling point when two unlikely people find themselves thrown together.
Excerpt
What's your name?" he asked her.
She tossed her head again, the motion making her sway a little. Adam looked more closely. Her pupils were blown wide and dark, and her cheeks were flushed in a lovely contrast to her fair complexion.
"Miranda Wake, Délicieux magazine," she said defiantly, as if expecting him to take issue with it.
Ah ha, he thought, somehow unsurprised, even though he'd always pictured the New York food scene's most notorious critic as being considerably older and more dried- up looking than this fiery little piece.
Miranda Wake. You are blitzed out of your mind, on cocktails I designed, mixed with liquor I steeped with my own hands.
There was something weirdly erotic about it, and Adam covered the momentary oddness by stepping down and coming around the bar to shake Read More…