Stephanie Plum Novels #15
July 2009
On Sale: June 23, 2009
Featuring:
Stephanie Plum; Lulu
320 pages
ISBN: 0312383282
EAN: 9780312383282
Hardcover
$27.95
Mystery Woman Sleuth
Buy at Amazon.com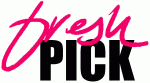 Finger Lickin' Fifteen by Janet Evanovich
The next Stephanie Plum novel, in which complications arise, loyalties are tested, cliffhangers are resolved, and donuts are eaten.
Unbuckle Your Belt And Pull Up A Chair. It's The Spiciest, Sauciest, Most Rib-Sticking Plum Yet.

Recipe for disaster:
Celebrity chef Stanley Chipotle comes to Trenton to participate in a barbecue cook-off and loses his head –literally.
Throw in some spice:
Bail bonds office worker Lula is witness to the crime, and the only one she'll talk to is Trenton cop, Joe Morelli.
Pump up the heat:
Chipotle's sponsor is offering a million dollar reward to anyone who can provide information leading to the capture of the killers.
Stir the pot:
Lula recruits bounty hunter Stephanie Plum to help her find the killers and collect the moolah.
Add a secret ingredient:
Stephanie Plum's Grandma Mazur. Enough said.
Bring to a boil:
Stephanie Plum is working overtime tracking felons for the bonds office at night and snooping for security expert Carlos Manoso, A.K.A. Ranger, during the day. Can Stephanie hunt down two killers, a traitor, five skips, keep her grandmother out of the sauce, solve Ranger's problems and not jump his bones?
Warning:
Habanero hot. So good you'll want seconds.
Excerpt
One
WHEN I WAS a kid, I was afraid of spiders and vegetables. As an adult, I've eliminated vegetables from my fright-o-meter, but I've added a whole bunch of other stuff. Homicidal maniacs, serial rapists, cellulite, Joe Morelli's Grandma Bella, rabid bats, and any form of organized exercise.
My name is Stephanie Plum, and I work as a bond enforcement officer for Vincent Plum Bail Bonds. It's not a great job, but it allows me to avoid organized exercise, and I hardly ever encounter rabid bats. The remaining fright-o-meter items lurk in the dark shadows of my daily life. Fortunately, there are also good things in those shadows. Joe Morelli without his Grandma Bella, fellow bounty hunter Ranger without his clothes, my crazy family, my hamster, Rex . . . and Lula. Lula actually fits somewhere between the rabid bats and Read More…