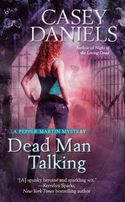 Pepper Martin Mysteries, No. 5
October 2009
On Sale: October 6, 2009
304 pages
ISBN: 0425230740
EAN: 9780425230749
Mass Market Paperback
$7.99
Paranormal, Mystery
Buy at Amazon.com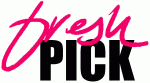 Hurry to catch up on the Pepper Martin series. Tomb With A View, the next book in the series hits shelves on July 6.
Dead Man Talking
by Casey Daniels
Heiress-turned-cemetery-tour-guide Pepper Martin is not happy to discover that a local reality TV show, Cemetery Survivor, will be filmed at Cleveland's Monroe Street Cemetery-and she has to be a part of it. To make matters worse, the ghost of a wrongly convicted killer needs Pepper's help to clear his name. But digging for the truth could put her in grave danger.

The fifth book in the Pepper Martin Mystery Series
Excerpt
The ghosts were waiting for me when I arrived at Monroe Street Cemetery that morning.
I figured they would be. They'd been hanging around my office at Garden View Cemetery ever since the day a couple weeks earlier when my boss, Ella Silverman, informed me that instead of leading tours through Garden View that summer, I would be spending my time working on a restoration project at Monroe Street.
Back at Garden View, I'd pretty much been able to ignore this pack of annoying spooks, and I knew why. They were buried here at Monroe Street, and far from where they were resting (but not at peace), they didn't have nearly as much ghostly oomph. Here they were as lively as the dead are likely to get and way pushier than ghosts have any right to be.
Then again, I guess Read More…