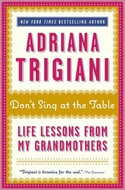 November 2010
On Sale: November 9, 2010
208 pages
ISBN: 0061958948
EAN: 9780061958946
Hardcover
$22.99
Non-Fiction Inspirational, Non-Fiction Memoir, Non-Fiction
Buy at Amazon.com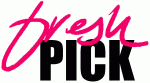 Motherly lessons
Don't Sing at the Table: Life Lessons from My Grandmothers
by Adriana Trigiani
The Wisdom Of My Grandmothers
As devoted readers of Adriana Trigiani's New York Times bestselling novels know, this "seemingly effortless storyteller" (Boston Globe) frequently draws inspiration from her own family history, in particular from the lives of her two remarkable grandmothers, who have found their way into all Trigiani's cherished novels. In Don't Sing at the Table, this much-beloved writer has gathered their estimable life lessons, revealing how her grandmothers' simple values have shaped her own life, sharing the experiences, humor, and wisdom of her beloved mentors to delight readers of all ages.
Lucia Spada Bonicelli (Lucy) and Yolanda Perin Trigiani (Viola) lived through the twentieth century from beginning to end as working women who juggled careers and motherhood. From the factory line to the family table, Lucy and Viola, the very definition of modern women, cut a path for their granddaughter by demonstrating moxie and pluck in their fearless approach to life, love, and overcoming obstacles.
Lucy's and Viola's traditions and spiritual fortitude will encourage you to hold on to the values that make life rich and beautiful. Their entrepreneurial spirit will inspire you to take risks and reap the rewards. And their remarkable resilience in the face of tragedy will be a source of strength and comfort.
Trigiani visits the past to seek answers to the essential questions that define the challenges women face today at work and at home. This is a primer, grand-mother to granddaughter, filled with everyday wisdom and life lessons that are truly "tiramisu for the soul" (The Examiner), handed down with care and built to last.