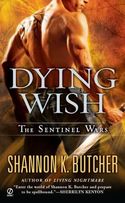 Sentinel Wars #6
March 2012
On Sale: March 6, 2012
Featuring: Jackie Patton; Iain
400 pages
ISBN: 045123605X
EAN: 9780451236050
Paperback
$7.99
Romance Paranormal, Fantasy Urban

Thrilling paranormal romance
Dying Wish
by Shannon K. Butcher
They are the Sentinels. Three races descended from ancient guardians of mankind, each possessing unique abilities in their battle to protect humanity against their eternal foes — the Synestryn. Now, a beautiful but damaged Sentinel may be a warrior's last hope…
Jackie Preston has been rescued by the Theronai from her captivity and torture at the hands of the Synestryn. All she wants is to be left alone, but that isn't possible — not when she's a potential match for the Theronai warriors who need a woman to literally save their lives.
Forced to choose, she unexpectedly selects Iain, a cold-hearted warrior who doesn't want to be saved. Iain is convinced that it's too late for him — that his soul is already as dead as his former betrothed, killed by the Synestryn. Still, he is the only man Jackie feels a measure of peace around, the only one she wants. But is Iain indeed beyond saving?

Rescued from a horror worse than death, now it's Jackie's turn to become a savior.
Excerpt
Missouri, April 2
Jackie Patton was dressed to kill, and if one more of those burly, tattooed Theronai warriors tried to grope her, she was going to do just that.
Her red power suit was far too dressy for the occasion, but it made her feel better, almost normal. The thought sent hysterical laughter bubbling up from deep inside her. Normal was such a distant concept that she couldn't even remember what it felt like.
Two years. That's all the demons had stolen from her. She could never get them back, but she was free now, and determined to live that way.
She smoothed her hands over her suit jacket, ignoring the way they trembled. What little she had was already packed. She'd regained access to her bank accounts. Her house was gone — foreclosed and sold at auction — but she'd find another Read More… Previous Picks