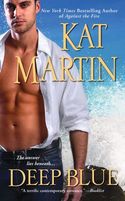 Next year I'm planning to take a cruise.  I've only done it twice before–both times on Carnival, fun because both were readers' cruises.  Six hundred and fifty readers and only twenty five authors!  It was like being a big celebrity, even though it only lasted a week.  It was terrific to talk books with people who love them as much as I do.
Next year's cruise will be different.  We're going to the Greek Isles–or at least so we thought until last week when I found out the boat doesn't stop at any real islands.  They kind of tricked us, but it was a very good deal, money-wise, since the cruise industry is after the accident in Italy and Greece has riots in the streets.
So it's going to be cheaper–if we live through it.  And there is always the possibility of storms that time of year.  I'm definitely taking my patch–which, incidentally, actually works.  Twelve-foot seas and you don't feel a thing.  Kind of like being drunk without the hangover.  Gotta have a prescription for it, though, but it's usually easy to get.
Our last cruise was in the Caribbean–the setting for DEEP BLUE, a book that Kensington Publishing is re-issuing September 1, with a fabulous new hunky male cover.
This is part of the Sinclair Sisters' trilogy.  Conner Reese is the captain of a salvage boat who is searching the waters off Jamaica for Spanish sunken treasure.  Con has work to do and he isn't happy to have lady reporter, Hope Sinclair, interfering in his business.  The book has been out of print for a while and the new cover is really fantastic.  If you haven't read it, I hope you'll give DEEP BLUE a try.
So tell me…how do you feel about cruising?  Great fun or a nightmare?  Love to hear your thoughts.  Have a great summer.  Happy reading, Kat
One commenter (US only) will win a copy of DEEP BLUE.
To comment on Kat Martin's blog please click here.