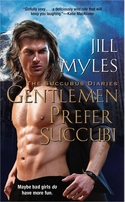 The Succubus Diaries #1
January 2010
On Sale: December 29, 2009
Featuring: Jackie Brighton
384 pages
ISBN: 1416572821
EAN: 9781416572824
Mass Market Paperback
$7.99
Romance Paranormal
Buy at Amazon.com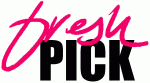 Gentlemen Prefer Succubi
by Jill Myles
The first of two fun and sexy paranormal romances featuring a succubus, a vampire, and a fallen angel.
Who knew an angel could get a girl in so much devilish trouble?
Jackie Brighton woke up in a dumpster this morning, and her day has only gotten weirder. Her breasts grew overnight, her sex drive is insatiable, and apparently she had her first one-night stand ever . . . with a fallen angel. Of course, she only remembers gorgeous Noah's enormous, er, package.
And their steamy shower sex. Hmm . . . and the dark stranger whose bite transformed her into an immortal siren with a seductive Itch. With help from Noah and fellow succubus Remy Summore, Jackie adapts to her new lifestyle—until she accidentally strikes a deal that sends her lover into the deadly clutches of the vampire queen and lands Jackie, Remy, and the queen's wickedly hot right-hand man into the middle of a fierce battle for an ancient halo.
But how's a girl supposed to save the world when the enemy's so hard to resist?

An excellent combination of chick-lit, paranormal romance and mystery — with hot sex!
Excerpt
It had obviously been one hell of a night if I couldn't recall why I was waking up in a Dumpster.
I blinked a few times, staring at the sky overhead. A Dumpster? Surely not. But between the flies, the stench, and the garbage bags surrounding me, I didn't know what else it could be. My left hand rested on something clammy and wet, and I hoped that it was an old newspaper and not something more sinister. I didn't even want to think about what was tickling my bare toes.
I sat up, cradling my throbbing head and trying to think. What the hell had happened? I didn't normally find myself comatose and drooling amid piles of garbage. Shit. My boss was going to be sooo totally pissed at me.
Something itched against my breast and I reached up Read More…