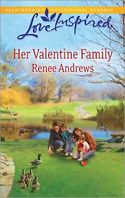 February 2011
On Sale: February 4, 2011
Featuring:
Jessica Bowman; Chad Martin
288 pages
ISBN: 037387653X
EAN: 9780373876532
Paperback
$5.50
Romance Contemporary, Inspirational Fiction Romance
Buy at Amazon.com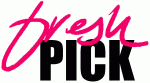 Sometimes forgiving can be the best Valentine's gift.
Her Valentine Family
by Renee Andrews
Chad Martin has had his share of lies and deceit. The only bright spot, the sun in each and every day, is his beautiful toddler, Lainey. Then he runs into his first love on the Stockville College campus. Seeing Jessica reminds him of what is missing in his life. Jess had always been the type of woman he could love, honest and trustworthy. And his feelings from the past are still very much alive in the present.
Jessica Bowman has returned home after six years away, but she hasn't returned alone. Her adorable five-year-old Nathan is by her side and ready to start life in "Mommy's town." But Jessica doesn't realize that her first love has also returned to Claremont, and she has no idea that he's an instructor at the college where she's taking classes. More than that, Jessica is now faced with the dilemma of explaining to Chad why she left so many years ago, and why Nathan's green-gold eyes are so similar to his own.
Now Nathan has a Valentine's Day request, and Jess would love to make his vision a reality, if Chad can find a way to forgive. .
Excerpt
Chad Martin left the Math and Science building at Stockville Community College after his last class Thursday evening mentally reviewing the semester's syllabus, which he'd spent the majority of class time explaining to the students. Sure, he crammed a ton in the Advanced Biology course, but he wanted them, or rather their parents, to get their money's worth. And he wanted to prove to the university that he could handle higher level courses in spite of his youth, show them that he could make the work challenging for the students but also entice them to enjoy the learning process. No, he hadn't planned on being a teacher, but if teaching was what he was doing, he wanted to do a good job.
He was so engrossed in calculating what he could cover the first week that he nearly missed the movement to his right Read More…