Fresh Pick for Wednesday, May 7th, 2014 is HOW TO LOSE A DUKE IN TEN DAYS by Laura Lee Guhrke
#RomanceWednesday Love this series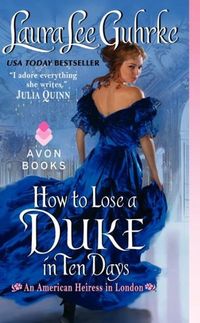 An American Heiress in London
Avon
May 2014
On Sale: April 29, 2014
384 pages
ISBN: 0062118196
EAN: 9780062118196
Kindle:
B00G97C51K
Paperback / e-Book
Add to Wish List
Romance Historical, Romance
Buy A Copy

How To Lose a Duke in Ten Days
by Laura Lee Guhrke
From USA Today bestselling author Laura Lee Guhrke comes the story of a bargain, a marriage of convenience . . . and the chance for love to last a lifetime
They had a deal . . .
From the moment she met the devil-may-care Duke of Margrave, Edie knew he could change her life. And when he agreed to her outrageous proposal of a marriage of convenience, she was transformed from ruined American heiress to English duchess. Five years later, she's delighted with their arrangement, especially since her husband is living on another continent.
But deals are made to be broken . . .
By marrying an heiress, Stuart was able to pay his family's enormous debts, and Edie's terms that he leave England forever seemed a small price to pay. But when a brush with death impels him home, he decides it's time for a real marriage with his luscious American bride, and he proposes a bold new bargain: ten days to win her willing kiss. But is ten days enough to win her heart?

sometimes losing a bet is a good thing

Wonderfully romantic historical romance with fabulous characters!
Excerpt
It couldn't be him. It simply couldn't.
Her heart pounding like the piston of a steam engine, Edie ran through the station and out the front doors, her only thought to get as far away from Stuart as possible. She paused on the steps to locate her carriage, and when she saw the open vehicle, she muttered a frustrated oath to see it standing empty by the corner. Roberts had, of course, followed them inside with the luggage, and she'd have to wait for him unless she wanted to drive the vehicle herself.
That would certainly cause the tongues of Clyffeton to start wagging, especially in light of the duke's return and the way she'd bolted from the station like a rabbit. Still, better that than to wait and have Stuart accompanying them back to Highclyffe. She needed time to pull Read More… Previous Picks