Fresh Pick for Thursday, May 8th, 2014 is CURSE OF THE BRIMSTONE by Corrina Lawson
#SupernaturalThursday Steampunk!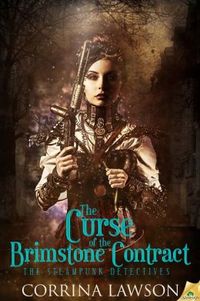 Steampunk Detectives #1
Samhain
May 2014
On Sale: April 22, 2014
232 pages
ISBN: 1619220679
EAN: 9781619220676
Kindle:
B00HK6L7TA
e-Book
Add to Wish List
Fantasy Steampunk
Buy A Copy
Curse of the Brimstone
by Corrina Lawson
Magic existed at the fringes until Prince Albert discovered he was a mage. Now he and others like him are leading a revolution in steam technology that's held tight in the grip of the upper classes.
A man of half-Indian heritage, rejected by his upper-crust, mage-gifted family, Gregor Sherringford lives in working- class London, investigating cases involving magic among the lower classes. But he's never met a client quite like spirited, stubborn Joan Krieger.
Joan's dream was to lead a fashion revolution designing women's clothing suited to the new technology. But when her richest client mysteriously dies outside her shop, it deals a mortal blow to her dreams.
She hopes the handsome, enigmatic detective can prove the death a magical murder. She never expected a dark plot would be woven right into the fabric of her family. Or that cracking the case will mean merging gifts, minds—and hearts— with the one man who could be her partner in every way. If they survive the release of a soul-binding curse.
Warning: This novel contains an intelligent, repressed detective and a woman who won't take no for an answer, not when she hires him…and not when she falls in love with him.

This is Steam punk at its finest, a mystery, magic, murder and romance.