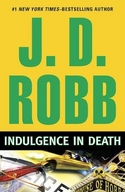 In Death #31
November 2010
On Sale: November 2, 2010
Featuring:
Roarke; Eve Dallas
ISBN: 0399156879
EAN: 9780399156878
Hardcover
$26.95
Thriller Police Procedural, Romance Suspense
Buy at Amazon.com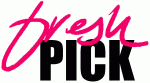 Best Romantic Suspense RITA, everyone agrees a MUST READ
Indulgence in Death
by J. D. Robb
An indulgence for readers: the new Eve Dallas novel from the #1 New York Times-bestselling author.
First it was a limo driver shot through the neck with a crossbow. Then it was a high-priced escort found stabbed through the heart with a bayonet.
Random hits, thrill kills, murderers with a taste for the finer things in life – and death – are making NYPSD Lieutenant Eve Dallas angry. And an angry Eve can be just as an efficient and dangerous predator as the killer.
As time runs out on another innocent victim's life, Eve's investigation will take her into the rarefied circle that her husband, Roarke, travels in – and into the perverted heart of madness…

This time, Lt. Eve Dallas is looking into a string of weird murders featuring unusual murder weapons.