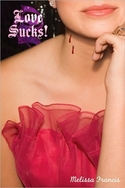 August 2010
On Sale: July 27, 2010
Featuring:
AJ Ashe
288 pages
ISBN: 0061430994
EAN: 9780061430992
Hardcover
$8.99
Young Adult Paranormal
Buy at Amazon.com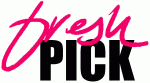 Save the world and plan the prom!
Love Sucks!
by Melissa Francis
AJ Ashe may have gotten rid of her vampire stalker and her evil ex-teacher, but things are hardly back to normal. For one thing, she still has to maintain a strict look-but-don't-touch policy with Ryan, her hot ex-boyfriend-turned-stepbrother. For another, she has to learn to control her vampire superpowers—which means more than a few dates with Lex, mind-reading professional vampire trainer and too-sexy-for-his-own-good bad boy. And as if that's not enough, she happens to be the key to her father's plans to take over the world . . . and he'll stop at nothing to get what he wants.
All this and she's still got to plan the prom. Being a teenager is tough, but being a teenage vampire just flat out sucks!

Teen angst complicated with paranormal abilities provides lots of surprises and tension.