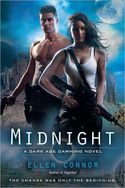 Dark Age Dawning #2
September 2011
On Sale: September 6, 2011
Featuring:
Rosa Cortez; Chris Welsh
336 pages
ISBN: 0425242994
EAN: 9780425242995
Trade Size
$15.00
Science Fiction, Romance Paranormal

Staff favorite
The change was only the beginning
Their desire destroys her defenses.
Their love gives him a reason to live.
Three years of wandering the post-apocalyptic wasteland has stripped Dr. Chris Welsh of humanity and hope. He's a dangerous man now, full of dark energy and yen for violence. A harrowing loss drove him from his home, and he hasn't stopped moving since. Grim and sardonic, he never found anything worth sticking around for–until now.
Rosa Cortez runs Valle de Bravo, a haven of civilization amid the chaos of the Change. Soldiers take their orders directly from her–the iron hand within a velvet glove. The last thing she needs is a feral loner upsetting the town's tentative balance. However, for the good of her people, she lets the sexy doctor stay. He evokes a delicious new longing, but she won't submit to any man.
Tension rises as bloodthirsty raiders strike again and again, bent on possessing Valle and its resources. Together Chris and Rosa battle hellhounds and dust pirates while also fighting desperate attraction. To save them, love must overcome the pain of the past–and build a future in this brutal Dark Age…

In a Shattered Post-Apocalyptic World, Two Strong Heros Find Love and Redemption
Excerpt
"We move in ten. Jameson, you run the count."
While Jameson was thin and quiet, he had a scary affinity for knives–and that meant nobody would question her choice. He was one of the few who had confided in Rosa about his past–the child of a Filipina mother and an American GI. When his dad died, leaving them destitute, he had fought his way to some renown and joined an underground circuit, where he earned enough money to bring his family to America. His background rendered him as deadly as any in camp. That was why Rosa chose him.
The man held up his fingers and everyone watched as he curled them down, one by one. Vibrations rocked the ground. Vehicles were few and far between these days; only the old ones could be coaxed into running, if they didn't Read More…