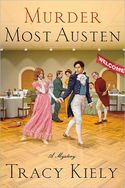 September 2012
On Sale: September 4, 2012
Featuring:
Elizabeth Parker
304 pages
ISBN: 1250007429
EAN: 9781250007421
Kindle:
B008VA7ELE
Hardcover
$25.99
Mystery, Mystery Amateur Sleuth

Time for festivals and in this case, murder
Murder Most Austen
by Tracy Kiely
A dedicated Anglophile and Janeite, Elizabeth Parker is hoping the trip to the annual Jane Austen Festival in Bath will distract her from her lack of a job and her uncertain future with her boyfriend, Peter.
On the plane ride to England, she and Aunt Winnie meet Professor Richard Baines, a self-proclaimed expert on all things Austen. His outlandish claims that within each Austen novel there is a sordid secondary story is second only to his odious theory on the true cause of Austen's death. When Baines is found stabbed to death in his Mr. Darcy costume during the costume ball, it appears that Baines's theories have finally pushed one Austen fan too far. But Aunt Winnie's friend becomes the prime suspect, so Aunt Winnie enlists Elizabeth to find the  professor's real killer. With an ex-wife, a scheming daughter-in-law, and a trophy wife, not to mention a festival's worth of die-hard Austen fans, there are  no shortage of suspects.
This fourth in Tracy Kiely's charming series is pure delight. If Bath is the number-one Mecca for Jane Austen fans, Murder Most Austen is the perfect read for those who love some laughs and quick wit with their mystery.