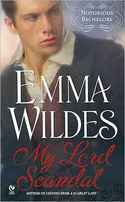 Notorious Bachelors #1
September 2010
On Sale: September 7, 2010
Featuring:
Alexander St. James; Lady Amelia
336 pages
ISBN: 0451231066
EAN: 9780451231062
Paperback
$6.99
Romance Historical
Buy at Amazon.com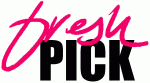 My Lord Scandal
by Emma Wildes
Alexander St. James may be a thief of hearts, but he is no burglar. Nevertheless, he must recover and item belonging to his family to avoid a scandal, and so he has stolen into the home of Lord Hathaway, only to come upon the beguiling and chaste Lady Amelia in her bedroom, wearing little but a look of surprise.
Alexander leaves Amelia breathless-but is it from fear or excitement?
Captivated by her beauty and charmed by her intellect, he ignores the scandalous whispers as he sets out to seduce the woman of his dreams…

This first book in the new Notorious Bachelors series is refreshing and alluring.
Excerpt
Chapter One
The alley below was filthy and smelled rank, and if he fell off the ledge, Lord Alexander St. James was fairly certain he would land on a good-sized rat. Since squashing scurrying rodents was not on his list of favorite pastimes, he tightened his grip and gauged the distance to the next roof. It looked to be roughly the distance between London and Edinburgh, but in reality was probably only a few feet.
"What the devil is the matter with you?" a voice hissed out of the darkness. "Hop on over here. This was your idea."
"I do not hop," he shot back, unwilling to confess that heights bothered him. They had since the night he'd breached the towering wall of the citadel at Badajoz with the forlorn hope. He still remembered the pounding rain, the Read More…