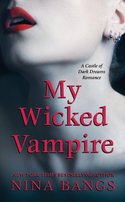 Castle of Dark Dreams #4
October 2009
On Sale: September 29, 2009
336 pages
ISBN: 084395955X
EAN: 9780843959550
Mass Market Paperback
$7.99
Romance Paranormal, Erotica Paranormal
Buy at Amazon.com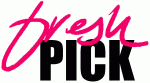 My Wicked Vampire by Nina Bangs
The Castle of Dark Dreams is just part of an adult theme park, right? The most decadent attraction in a place where people go to play out their wildest erotic fantasies. Holgarth isn't really a wacky wizard, and Sparkle Stardust doesn't actually create cosmic chaos by hooking up completely mismatched couples. And that naked guy chained up in the dungeon? No way he's a vampire.
Wrong…dead wrong, as botanist Cinn Airmid is about to find out. It's up to her to save the night feeder's sanity, but to do that she'll have to get close to the most dangerously sexy male she's ever encountered. And one look in Dacian's haunted black eyes tells her close will take on a whole new meaning with someone who's had 600 years to practice his technique. Even a girl with a name that conjures up images of forbidden pleasure has a few tricks to learn from… MY WICKED VAMPIRE

Witty addition to this erotic series that's both light and dark — and extremely charming.