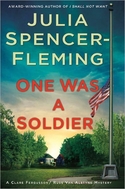 Clare Fergusson / Russ Van Alstyne #7
April 2011
On Sale: April 12, 2011
Featuring:
Clare Fergusson; Russ Van Alstyne
336 pages
ISBN: 0312334893
EAN: 9780312334895
Hardcover
$24.99
Mystery
Buy at Amazon.com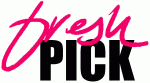 Coming home from war isn't easy
One Was A Soldier
by Julia Spencer-Fleming
On a warm September evening in the Millers Kill community center, five veterans sit down in rickety chairs to try to make sense of their experiences in Iraq.  What they will find is murder, conspiracy, and the unbreakable ties that bind them to one another and their small Adirondack town.
The Rev. Clare Fergusson wants to forget the things she saw as a combat helicopter pilot and concentrate on her relationship with Chief of Police Russ Van Alstyne. MP Eric McCrea needs to control the explosive anger threatening his job as a police officer. Will Ellis, high school track star, faces the reality of life as a double amputee. Orthopedist Trip Stillman is denying the extent of  his traumatic brain injury. And bookkeeper Tally McNabb wrestles with guilt over the in-country affair that may derail her marriage.
But coming home is harder than it looks. One vet will struggle with drugs and alcohol. One will lose his family and friends. One will die.
Since their first meeting, Russ and Clare's bond has been tried, torn, and forged by adversity. But when he rules the veteran's death a suicide, she violently rejects his verdict, drawing the surviving vets into an unorthodox investigation that threatens jobs, relationships, and her own future with Russ.
As the days cool and the nights grow longer, they will uncover a trail of deceit that runs from their tiny town to the upper ranks of the U.S. Army, and from the waters of the Millers Kill to the unforgiving streets of Baghdad.
Excerpt
I BELIEVE IN…THE COMMUNION OF SAINTS…
—The Apostles' Creed, The Book of Common Prayer
MONDAY, SEPTEMBER 5
Sarah Dowling's first thought, peering through the wire-reinforced glass of the community center's door, was that they were an odd group. Usually returned vets had a lot to talk about with one another, even if they were embarrassed to be seen in counseling. She would have thought that in a tiny town like Millers Kill—she couldn't help it, she still saw the place as a cross between a Thomas Kinkade painting and Bedford Falls—they'd be even easier together, but none of these soldiers were speaking to each other.
The two men unracking metal chairs could have been father and son; both middling height, in khakis and button-downs, both with regulation crew cuts—the fifty-something Read More…
Previous Picks