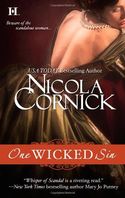 November 2010
On Sale: October 26, 2010
Featuring:
Lottie Cummings; Ethan Ryder
368 pages
ISBN: 0373774877
EAN: 9780373774876
Paperback
$7.99
Romance Historical
Buy at Amazon.com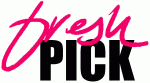 Another great historical we think deserves a RITA
One Wicked Sin
by Nicola Cornick
Once the toast of the ton, Lottie Cummings is now notorious for being divorced. Shunned by society, the destitute beauty is lured to become a Covent Garden courtesan. Until a dangerous rake saves her with a scandalous offer.
The illegitimate son of a duke, Ethan Ryder rose to the ranks of Napoleon's most trusted cavalry officer—until his capture landed him in England as a prisoner of war. Now on parole, Ethan is planning his most audacious coup yet. But he needs Lottie's help to create a spectacular diversion. Yet their pact ignites a passionate bond that may scandalize even these two wicked souls….

Lottie Palliser is divorced and notorious.
Excerpt
A man was standing in the doorway, one shoulder resting against the jamb. He was in black and white evening dress and against the raucous colour of the brothel with its damask walls and peacock drapes he looked stark and almost too plainly attired. He was tall with black hair cut short and eyes of a startling, striking blue in a lean, watchful face.
Lottie felt Hagan stiffen, as though sensing a rival.
"Sir-" Hagan's face had reddened. "You intrude. You must wait your turn."
The stranger's eyes met Lottie's. His gaze was so bright and piercing that she felt her breath catch. Odd, she thought, that in that moment there was something in his eyes that looked almost like reassurance. Odd and impossible, an illusion, for then he smiled and any impression of gentleness was banished. He strode forward, self-assured, dangerous.
Read More…