Fresh Pick for Tuesday, January 19th, 2016 is ORPHAN X by Gregg Hurwitz
#WhatsNew great start to a new series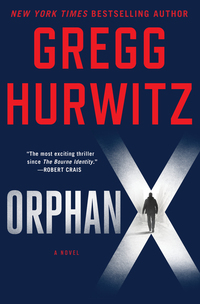 The Nowhere Man is a legendary figure spoken about only in whispers. It's said that when he's reached by the truly desperate and deserving, the Nowhere Man can and will do anything to protect and save them.
But he's no legend.
Evan Smoak is a man with skills, resources, and a personal mission to help those with nowhere else to turn. He's also a man with a dangerous past. Chosen as a child, he was raised and trained as part of the off-the-books black box Orphan program, designed to create the perfect deniable intelligence assets—i.e. assassins. He was Orphan X. Evan broke with the program, using everything he learned to disappear.
Now, however, someone is on his tail. Someone with similar skills and training. Someone who knows Orphan X. Someone who is getting closer and closer. And will exploit Evan's weakness—his work as The Nowhere Man—to find him and
eliminate him. Grabbing the reader from the very first page, Orphan X is a masterful thriller, the first in Gregg Hurwitz's electrifying new series featuring Evan Smoak.
Gregg Hurwitz grew up in the San Francisco Bay area. While completing a BA from Harvard and a master's from Oxford, he wrote his first novel, THE TOWER, a psychological thriller set in and around San Francisco. Minutes to Burn, Hurwitz's second novel, originated during a research trip to the Galápagos, where he confronted marine iguanas on lava plains, hiked through the islands' curious Scalesia forests, and contended with enormous crab spiders in shower stalls and toilet bowls. Upon his return, he spent months tracking down scientific experts around the world –ecologists, geologists, entomologists, virologists — continuing to indulge his fascination in the archipelago and to flesh out what would become Minutes to Burn. While undertaking the military research for the novel, Hurwitz dealt with an extensive network of Navy SEALs and related operators. He was obligated to familiarize himself with sidearms, meals-ready-to-eat, M-16s, SWAT ranges, and hand-to-hand techniques — much to the derisive amusement of attendant Navy SEALs.
Hurwitz's father, sister, and grandfather were all physicians, so growing up, he was regaled at dinnertime with tales of swallowed quarters and severed fingers. He was also subjected to vigorous discussion regarding the boundaries of medical ethics, which provided him a foundation for his previous national bestseller Do No Harm. In the course of researching the novel, he shadowed doctors in the UCLA emergency room, harassed government operatives
to teach him surveillance techniques, and delved into psychological research on childhood trauma.
He has published several academic articles and now lives in Los Angeles, where he is working on his fourth thriller and the screenplay of Rogue Warrior (based on Richard Marcinko's autobiography) for Jerry Bruckheimer Films.
The Fresh Pick is chosen by a group of readers and is never a purchased advertisement or promotion. We've picked this book because it appeals to us and we like to share our diverse tastes in reading and hope you'll give it a try.