Linny read the party invitation.

Picturing running into old friends, she fell down a deep well of self-doubt. What if she ran into Sarah Baker – now a judge who'd married well, competed in marathons, and ran a summer camp for low income kids? Or what about Randolph Henson, a nerdy boy Linny had spurned in high school, who'd morphed into a Ryan Reynolds look-alike, become a thoracic surgeon, and married Linny's high school pal, the then-buck-toothed Mitzi.
I wrote about what was important to me – funny girlfriends, good men, work that makes us happy, women who have adventures, sweet dogs, and love at any age.
LINNY'S SWEET DREAM LIST is a Southern story about love and family, small town life and bright characters you are going to want as friends.
The book is a sunny, wholesome read. If you are ever overwhelmed by the bad news in the world, join me in Willow Hill, North Carolina where colorful characters are searching for – and finding – their happily ever afters.
Fans of Mary Kay Andrews and Dorothea Benton Frank may well enjoy LINNY'S SWEET DREAM LIST.
LINNY'S SWEET DREAM LIST is the first of three Willow Hill novel. Two sequels to the novel, SWEET CAROLINA MORNING and SWEET SOUTHERN HEARTS – will be released later in 2016.
Linny gets kicked out of the beautiful home she lives in with Buck. He's emptied her bank accounts, and she's forced to move into a mobile home on her mama's property.
"Her best friend lounged on the sagging front porch of Linny's new home, the old trailer with faded aqua siding. Linny grinned and cruised to a stop.

Mary Catherine waved her hello with the grape Popsicle she was finishing. The jacket of her pantsuit was draped over the porch railing.

Linny climbed the iffy looking stairs and hugged her. "What you doing here?"

Mary Catherine rose. "Come to help clean."

Linny started to protest and her friend held up a hand. "Not listening. Where can I change?"

Mary Catherine emerged from the bedroom wearing shorts. She plugged her iPod into a sound dock. "This mix starts with women mad at men, but mellows out."

Linny nodded, and waited for the bucket to fill with hot water.

Mary Catherine pulled on zebra-striped rubber gloves with pink feathers cuffs and a fake diamond on the ring finger.

Linny grinned, but hurriedly pushed open a window as her friend pour straight Clorox on yellowed linoleum floor. "Shouldn't you dilute that?" she asked, not breathing.

Mary Catherine waved dismissively. "We want power, baby."

Worried about the Ajax she'd already tried on the floor, Linny edged away but there was no chemical explosion. She took a bristled brush to the floor as Carrie Underwood sang about lying men. As she wiped down the refrigerator door, she listened and vowed to come back stronger.

Mary Catherine used a paint scraper to remove splotches of gunk from the counter. She sang along and, Lord help her, she danced. For a graceful woman who'd been a talented gymnast in high school, she just could not dance. Linny's lips twitched.

What would Mary Catherine's law colleagues think of her oddly executed Beyoncé bounce, the off-beat shimmy and dramatic gestures – like the pointing finger when the song said, "you?" Although most of the herky-jerky motions were pure Mary Catherine, Linny knew she was amping up the foolishness to lighten the mood.

"You've got moves," Linny said admiringly, and warily opened the fridge. She exhaled, relieved the inside wasn't a biohazard.

Mary Catherine demonstrated a cringe-worthy rear end popping motion. "This is a hip-hop move I saw on YouTube."

Linny shook her head.

They vacuumed and clearing out junk the old tenants had thoughtfully left behind – a garbage bag full of beer cans, a broken baby carriage, and a black-and-white TV with the broken screen. As they mopped the floors for a third time and wiped down the dust-encrusted mini-blinds, Kip Moore sang about just wanting to take the pretty girl home and marry her. Linny felt wistful as she listened. That Kip sounded like such a nice man.

Mary Catherine mopped her face with a clean towel dipped in cool water, and held up a finger. "Be right back." She trotted outside, and few moments later, poked her head in the trailer. "Come on out."

Linny trudged outside into the oven broiler of an afternoon, but broke into a smile when she saw the blue baby pool that Mary Catherine must have brought over crammed in her car. She'd almost finished filling it with the garden hose. "Oh, how perfect." Linny grinned and examined the happy crabs decorating the pool. "I don't know where my bathing suit is…"

"We'll wear our clothes." Mary Catherine kicked off her shoes and sank in. "Aaah. Every country girl's dream – an above ground pool." She pointed to a small cooler. "Cold beer. We deserve a reward for all our hard work."

"We do." Linny popped the tops with the opener tied to the cooler and sank into the chilly water. "Heavenly," she sighed.
As my New Year's gift to you and your readers, here is the complete first chapter of the book.
Giveaway
Win an e-copy of LINNY'S SWEET DREAM LIST! It's easy, just tell us below what would be on YOUR list if you're looking for your happily ever after?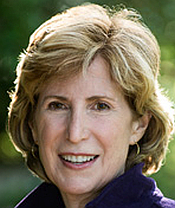 Susan is a wife and stepmother. She enjoys weekend getaways with friends, reading fiction, and rummaging through thrift store and antiques stores for treasures like four dollar cashmere sweaters and amateur watercolor paintings. A dog lover, Susan has a special fondness for Lab mix rescue dogs. She and her family live in North Carolina where she is finishing up the third novel in the Willow Hill Series, Sweet Southern Hearts.
Susan graduated from James Madison University in Virginia, and holds a master's degree from The University of North Carolina at Chapel Hill. She has used her professional background as a psychotherapist and management trainer to add authenticity to her characters.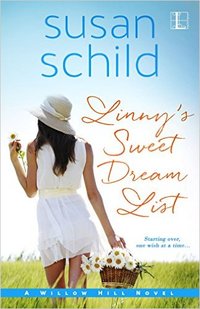 Set in the off-beat Southern town of Willow Hill, North Carolina, Susan Schild's moving and witty novel tells of one woman who loses everything—and finds more than she ever expected.
At thirty-eight, Linny Taylor is suddenly living a life she thought only happened to other, more careless people. Widowed for the second time, and broke, thanks to her cheating late husband, Linny has no house, no job, and no options except to go back home. There, in a trailer as run down as her self-esteem, Linny makes a list of things that might bring happiness. A porch swing. A job that nourishes her heart as well as her bank balance. Maybe even a date or two.
At first, every goal seems beyond reach. But it's hard for Linny to stay in the doldrums when a stray puppy is coercing her out of her shell—right into the path of the town's kind, compassionate vet. The quirky town is filled with friends and family, including Linny's mother, Dottie, who knows more about heartache than her daughters ever guessed. And as Linny contemplates each item on her list, she begins to realize that the dreams most worth holding on to can only be measured in the sweetness of a life lived to the fullest…