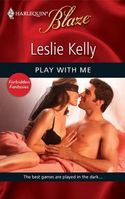 Forbidden Fantasies
February 2010
On Sale: February 1, 2010
Featuring: Amanda Bauer; Reese Campbell
224 pages
ISBN: 0373795254
EAN: 9780373795253
Mass Market Paperback
$4.99
Romance Erotica Sensual
The best games are played in the dark…
Pilot Amanda Bauer has always craved a life of adventure…sexual adventure, that is. Lucky for her, she's currently getting her thrills by indulging in naughty games with hunky Reese Campbell! After their first explosive encounter, they arrange to get together every couple of months for days filled with fantasy and wild, no-strings sex.
And the best part of it? Nobody else knows about it. Nobody!
It's the perfect private indulgence…until they find themselves on YouTube!

This steamy story has interesting scenarios, a riveting plot and great character development.
Excerpt
Halloween
It should have been a routine flight.
Pittsburgh to Chicago was about as simple an itinerary as Clear-Blue Airlines ever flew. In the LearJet 60, travel time would be under an hour. The weather was perfect, the sky like something out of a kid's Crayola artwork display. Blue as a robin's egg, with a few puffy white clouds to set the scene and not a drop of moisture in the air. Crisp, not cold, it was about the most beautiful autumn day they'd had this year.
The guys in the tower were cheerful, the Lear impeccably maintained and a joy to handle. Amanda Bauer's mood was good, especially since it was one of her favorite holidays. Halloween.
She should have known something was going to screw it up.
"What do you Read More…