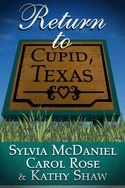 January 2012
On Sale: January 11, 2012
ISBN: 0014044188
EAN: 2940014044189
Kindle:
B006W1B870
e-Book
$1.99
Romance Anthology, Romance
Buy at Amazon.com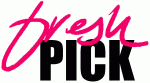 What can we say? They got us at Cupid, Texas
Return to Cupid, Texas
by Sylvia McDaniel, Carol Rose, Kathy Shaw
An Anthology by Sylvia McDaniel, Carol Rose, and Kathy Shaw about a Valentine Wedding that brings three women face to face with their biggest dreams and greatest nightmares.
An Anthology
Cupid's Revenge
Ten years ago, Skye Brand ran from Cupid, Texas to avoid marriage to Zane Calhoun. Now she's returning to town for the wedding of her friends Michelle and Ryan where she'll see Zane for the first time. Has he forgiven her for running from an elopement that would have resulted in a disastrous marriage?
Resisting Cupid
Emma's a successful television journalist, but returning home to Cupid, Texas, for her best friend's wedding means facing the chunk of her heart that broke off when she left her teenaged husband, Tucker. Emma always thought he'd gotten a divorce, but Dr. Tucker Anderson hasn't moved on and he's determined to talk his only love into giving them another chance.
True Love Wears a Tutu
How does a woman, who doesn't believe in true love, become the defender of true love? By being tricked into putting on the Truelove Fairy suit, that's how.