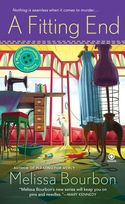 You can never predict where your interests will take you, or what path they will provide for you to follow.  Love for my husband and his Mexican culture led me to create the Lola Cruz mystery series (BARE-NAKED LOLA, book 3, comes out in April).
I never imagined I'd write a second series, and I certainly never imagined that learning to sew when I was in elementary school would factor into the concept behind that second series.
I learned to sew in elementary school.  It takes determination, fine motor skills, patience, and sheer will to learn to sew, especially when you're young.  And I had those things.  I was  a homebody, even then, and sewing quickly turned into one of my favorite things to do.  If Project Runway had been around then… watch out!
Fast forward to post college.  I spent hour after hour making the bridesmaids dresses for my wedding–and I had 7 bridesmaids in a very traditional Catholic ceremony!  A few years later, we were having kids and I sewed and dressed my children in homemade wonders which makes them burst out in laughter over now.  "Mom!  We looked like clowns!"
True.
I'm not inordinately skilled at sewing, so simple works best 😉  Baggie one piece outfits were my specialty for a while.  And infant and toddler clothes should have tons of color, que no?
I also love magical realism and pretty much wish it was the way the world really worked.  And old outlaws?  There's just something about them that gives me a thrill
So (sew) when it came time, eons later, to develop a book concept (you know how cozy mysteries need that all important hook), sewing was the first thing that popped into my mind.  I added a touch of magic, and a few old outlaws, and, voila!   A Magical Dressmaking Mystery Series was born.
From PLEATING FOR MERCY, book 1:
All the Cassidy women possess special gifts. Harlow Jane Cassidy's is creating beautiful dresses. But she's about to discover secrets in her own family, and another gift—one that can reach beyond the grave…
When her great-grandmother passes away, Harlow Jane Cassidy leaves her job as a Manhattan fashion designer and moves back to Bliss, Texas. But soon after she opens Buttons & Bows, a custom dressmaking boutique in the turn-of-the-century farmhouse she inherited, Harlow begins to feel an inexplicable presence…
One of her first clients is her old friend Josie, who needs a gown for her upcoming wedding. But when Josie's boss turns up dead, it starts to look as if the bride-to-be may be wearing handcuffs instead of a veil. Suddenly Josie needs a lot more from Harlow than hemming a dress. Can Harlow find the real killer—with a little help from beyond?
I love Harlow's world, intertwining history and ancestry with her contemporary world, and most of all, I love all the books on fashion I've had an excuse to buy… all in the name of research!
A FITTING END is now available and I'm so excited to share Harlow's continued journey in Bliss, Texas.  You don't have to love sewing in order to be spellbound by the Margaret Moffette Lea Pageant and Ball and the mystery at the Bliss Country Club.
From A FITTING END:
Former Manhattan fashion designer Harlow Jane Cassidy has a gift for creating beautiful dresses.  But when Harlow becomes the prime suspect in a murder investigation, she'll more than her sewing skills to unravel the mystery…
Business is booming at Harlow's custom dressmaking boutique, Buttons & Bows, even with the presence of her great-grandmother's ghost hanging around the shop.  But thanks to the fast approaching Margaret Moffette Lea Pageant and Ball, Harlow has her work cut out for her when Mrs. Zinnia James hires her to make her granddaughter's pageant gown.
With the debutant ball getting the whole town of Bliss, Texas into a tizzy, Harlow knows her dress has to be perfect.  But when a local golf pro is found stabbed to death with dressmaking shears, the new deputy thinks Harlow and Mrs. James conspired to commit the crime.  Now Harlow has to finish the dress on time and clear her name before the next outfit she designs is a prison jumpsuit…
Buy Now
Amazon Print
Barnes & Noble
So tell me… if you were to write a cozy mystery series, what would the hook be?
Connect with Melissa
Website: MelissaBourbon.com
Facebook: Author Misa Ramirez/Melissa Bourbon
Twitter: @MelissaBourbon
Goodreads: Misa Ramirez / Melissa Bourbon
To comment on Melissa Bourbon's blog please click here