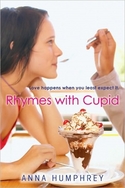 January 2011
On Sale: December 21, 2010
Featuring:
Elyse Ulrich; Patrick
162 pages
ISBN: 0061935018
EAN: 9780061935015
Paperback
$7.99
Young Adult
Buy at Amazon.com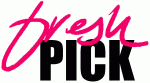 She's in love, Cupid!
Rhymes With Cupid
by Anna Humphrey
Love happens when you least expect it…
Goodman's Gifts & Stationery Store
February 14
Cashier: Elyse
3 boxes of heart-shaped chocolate . . . $12.00
Chocolate is the only good thing about this nauseating holiday.
4 containers of candy hearts . . . $5.00
Ever since my ex cheated on me, I've sworn off love. Too bad my new neighbor Patrick didn't get the memo.
1 Valentine's Day card . . . $4.50
I'm not interested. Although, he is pretty cute. And sweet. And funny.
1 singing Cupid doll (promotional item) . . . $0.00
Stupid Cupid! Point your arrows at someone else. . . .
Subtotal . . . $21.50
It's going to be a complicated Valentine's Day.
Rhymes with Cupid is a sweet, funny love story about a girl who finds romance despite her best efforts not to. All that Elyse Ulrich wants is to get through Valentine's Day as painlessly as possible. Working at Goodman's Gifts & Stationery is not helping. Now she spends her after-school hours surrounded by singing stuffed toys, tacky heart-shaped balloons, and sappy cards with poems that don't even really rhyme.
Not to mention Patrick, the new boy at the mall who keeps asking her out. Sure, he's charming, considerate, funny, and, okay, really cute, but none of that matters. Elyse isn't interested in putting her heart on the line. But with Valentine's Day approaching, she finds out that avoiding Cupid's arrow is a lot harder than she thought.