Fresh Pick for Wednesday, February 10th, 2016 is RUSTLER'S MOON by Jodi Thomas
#RomanceWednesday #Texas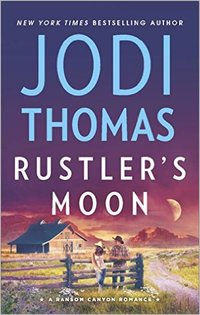 On a dirt road marked by haunting secrets, three strangers caught at life's crossroads must decide what to sacrifice to protect their own agendas…and what they're each willing to risk for love.
If there's any place that can convince Angela Harold to stop running, it's Ransom Canyon. And if there's any man who can reveal desires more deeply hidden than her every fear, it's Wilkes Wagner. Beneath the rancher's honorable exterior is something that just might keep her safe…or unwittingly put her in danger's path.
With his dreams of leaving this small Texas town swallowed up by hard, dusty reality, all Wilkes has to show for his life is the Devil's Fork Ranch. Though not one to let false hope seduce him, he can't deny the quiet and cautious beauty
who slips into his world and changes everything.
Lauren Brigman finally has freedom at her fingertips. All she needs is Lucas Reyes's attention—a look, a touch, some sign that she's more to him than a girl he rescued one dangerous night. But now it's her turn to rescue someone, and the life-altering decision may cost her more than a chance with Lucas.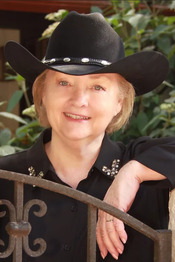 Jodi takes you to the Heart of Texas
A fifth-generation Texan, New York Times and USA Today bestselling author Jodi Thomas chooses to set the majority of her novels in her home state, where her grandmother was born in a covered wagon. A former teacher, Thomas traces the beginning of her storytelling career to the days when her twin sisters were young and impressionable.
With a degree in family studies, Thomas is a marriage and family counselor by education, a background that enables her to write about family dynamics. Honored in 2002 as a Distinguished Alumni by Texas Tech University in Lubbock, Thomas enjoys interacting with students on the West Texas A&M University campus, where she currently serves as Writer in Residence.
Commenting on her contribution to the arts, Thomas said, "When I was teaching classes full-time, I thought I was making the world a better place. Now I think of a teacher or nurse or mother settling back and relaxing with one of my books. I want to take her away on an adventure that will entertain her. Maybe, in a small way, I'm still making the world a better place."
When not working on a novel or inspiring students to pursue a writing career, Thomas enjoys traveling with her husband, renovating a historic home they bought in Amarillo and "checking up" on their two grown sons
The Fresh Pick is chosen by a group of readers and is never a purchased advertisement or promotion. We've picked this book because it appeals to us and we like to share our diverse tastes in reading and hope you'll give it a try.