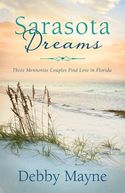 March 2014
On Sale: March 1, 2014
Featuring:
Ruthie; Jeremiah; Shelley
ISBN: 1628361670
EAN: 9781628361674
Hardcover
Add to Wish List
Inspirational Fiction Romance
Buy at Amazon.com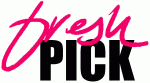 Love in the sand
Sarasota Dreams
by Debby Mayne
Romance blossoms in Sarasota, Florida, in the Mennonite community of Pinecraft. There, three young women find their plain and contented lives disrupted by love. Will Mary find lasting love with Abe, despite the stigma that follows her because of her mother's sins? Can Shelley trust Jeremiah, even though his past—and her parents—are stacked against him? And should Ruthie fall for a man who is not even Mennonite?

A compilation of three novellas set in Sarasota, Florida, in the Mennonite community of Pinecraft.
Excerpt
Mary Penner lowered herself to the hot, moist sand, gathered the front of her skirt, and twisted it around her shins as she pulled her knees to her chest. She carefully tucked the folds of her skirt around her to cover herself. It was only May, yet the intensity of heat from the sun reflecting off the beach in Sarasota, Florida, sent droplets of perspiration trickling down her back. But she didn't mind. Being here in a stable home, living among the Conservative Mennonite folks, and knowing her grandparents would always be there for her gave her a sense of peace—even if they wished she'd never been born.
Mary still had confusing and sometimes even bitter moments when she couldn't put her past completely behind her. Today was especially difficult because it was the ninth anniversary of her mother's death.