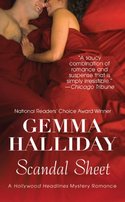 Hollywood Headlines #1
November 2009
On Sale: October 27, 2009
Featuring: Calvin Dean; Felix Dunn; Tina Bender
320 pages
ISBN: 0505528053
EAN: 9780505528056
Mass Market Paperback
$6.99
Contemporary Women's Fiction, Romance Suspense, Mystery Woman Sleuth
Buy at Amazon.com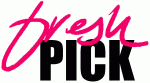 Scandal Sheet
by Gemma Halliday
The L.A. Informer is Los Angeles's premier tabloid magazine, reporting on all the latest celebrity gossip, scandals and dirt. They're not above a little sensational exaggeration and have even been known, on occasion, to bend the law in pursuit of a hot story. Their ace reporter, Felix Dunn, has just been promoted to managing editor. Now, he's got his work cut out for him keeping the magazine running smoothly while keeping his staff in line…
Tina Bender is the Informer's gossip columnist extraordinaire. She knows everything about everyone who's anyone. And she's not afraid to print it. That is, until she receives a threatening note, promising, "If you don't stop writing about me, you're dead." Teaming with a built bodyguard, a bubbly blonde, and an alcoholic obituary writer, Tina sets out to uncover just which juicy piece of Hollywood gossip is worth killing over.

From gossip to murder — this writer is not afraid to print news that may get her killed.

The first book in the Hollywood Headlines Mystery Series!!!
Excerpt
TEEN SENSATION ON MORAL VACATION:
LAST NIGHT THE INFORMER CAUGHT EVERYONE'S FAVORITE TEEN ACTRESS, JENNIFER WOOD, AT THE HOLLYWOOD MARTINI ROOM WITH A MEMBER OF A BOY BAND IN ONE HAND AND MARY JANE IN THE OTHER –
"Sh*t!"
"Tina!"
I swiveled in my chair to face my boss, Felix Dunn, standing in the doorway to his office, hands on hips.
"What?"
"Swear Pig."
I pursed my lips together. "That doesn't count."
"I just heard you say 'sh*t.'"
"It was computer related. Everyone knows computer related swearing doesn't count."
He narrowed his eyes. Clearly my argument wasn't cutting it.
"It's your own fault, you know," I protested, changing tactics. I looked down at my computer. I'd been working on a juicy Read More…