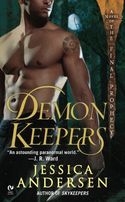 Mayan lore and modern science warn that 12/21/2012 could bring a global cataclysm … a threat that is far more real than we imagine. Dark forces stand poised to overrun the earth and crush humanity beneath a vicious rule of terror and blood sacrifice. Our only hope rests with a group of saviors living in secret among us: modern magic-wielding warriors called the Nightkeepers.
Now, in the last few years before the 2012 doomsday, these magi must find and win their destined mates in order to protect the barrier of psi energy that forms humanity's last line of defense against an ancient and powerful enemy.
Greetings, Fresh Fictioners!
I'm often asked, "Who is your favorite hero so far in the Nightkeeper books?" And when I'm asked that, I usually do a lost sort of guppy-gaping routine while I try to come up with a witty answer. But really, there's only one answer to that question for me: I love each of them for different reasons. Every time I sit down to write, I fall in love with my hero and heroine, and get to watch them fall in love with each other.
The first book in the series, Nightkeepers, introduces almost all of the characters who will be in the nine-book series arc (each book stands alone as a romance, but they're tied together in the overall save-the-world story).
Because there are so many characters are on the page, I worked to make them very different from each other, each with distinct flaws and virtues. And because of that, each of my heroes (and heroines, and supporting cast), have different things to like–and sometimes dislike–about them.
The hero of Nightkeepers, Strike, is a reluctant king who has to grow into his responsibilities … and in the process falls for a woman the gods have chosen as their next sacrifice. In Dawnkeepers, shapeshifter Nate struggles against the idea of predestiny, refusing to let the gods define his life. I think perhaps the most sexual hero so far has been Michael, the hero of Skykeepers. He's very dark, very dangerous, and very hooked in to his own sensuality.
But for me, perhaps one of the most lovable characters is Lucius, the hero of my new release, Demonkeepers. He's my 'nerd that roared' character; he's not the biggest or strongest among the Nightkeepers, and he doesn't even have true magic (at least not at first), but he's always wanted to be a hero.
But when demonic possession and a twist of magic leaves him with the powers of a prophet and he becomes the swashbuckling, magic-wielding Indiana Jones he's always wanted to be, he quickly realizes that being a Nightkeeper isn't the solution to all his problems … it's the start of a whole new set of them!
I love watching him grow into the hero he's always wanted to be, even though he makes some really Big Mistakes along the way.
Then again, ask me the same question in a few months, and I'll probably say that Brandt or Dez are my new favorite heroes. Part of my writing process is falling in love with each of these guys, and loving who they become with their heroines.
***
Today I'm giving away a signed copy of Demonkeepers, which is in stores now. All comments are entered to win–tell me who's your favorite Nightkeeper, ask me a question, comment on the books, or just say 'hi.' I'll be here all day, and would love to hear from you!
For more information on Demonkeepers and the other Nightkeeper novels, please check out my website.
To comment for a chance to win on Who's Your Favorite please click here.