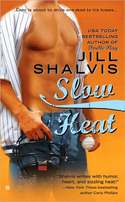 HEAT #3
February 2010
On Sale: February 2, 2010
Featuring:
Wade O'Riley; Samantha McNead
336 pages
ISBN: 0425233669
EAN: 9780425233665
Kindle:
B0030CHFNK
Paperback
$7.99
Romance Contemporary
Buy at Amazon.com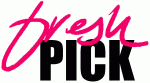 We're rooting for the play-offs, so why not hunker down with a "hunk?"
Slow Heat
by Jill Shalvis
A great catch-from the USA Today bestselling author of Double Play
Baseball player Wade O'Riley's bad-boy image is about to be cleaned up by publicist Samantha McNead. But the sexual tension between them is about to drive Wade to his knees.

The third book about the HEAT baseball team is sexy fun with heartfelt excitement.
Excerpt
Chapter 1
Confucious say: "Baseball wrong – man with four balls cannot walk." ~Author Unknown
She'd read somewhere that the way to a man's heart was through his stomach, but Samantha McNead knew better than that – in certain men the stomach was aiming just a bit too high.
Wade O'Riley was one of them.
The best defensive catcher in major league baseball, he had women lining up to meet him wherever he went.
And it wasn't home-cooking that they wanted to give him either.
Not that Wade seemed to mind. Nope, even with all the constraints that went with the new big, fat, multi-million dollar contract he'd just signed for Santa Barbara's expansion team The Heat, the guy seemed oblivious to pressure. Laid-back and easy-going Read More… Previous Picks