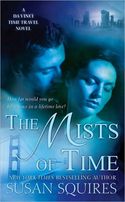 Davinci Time Travel #1
September 2010
On Sale: August 31, 2010
Featuring:
Diana Dearborn; Gawain
368 pages
ISBN: 0312943555
EAN: 9780312943554
Mass Market Paperback
$7.99
Add to Wish List
Romance Time Travel
Buy at Amazon.com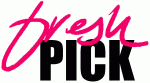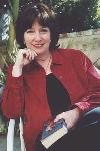 The Mists of Time
by Susan Squires
How far would you go for a once-in-a-lifetime love?
Diana Dearborn knows all about romance, at least in the books she writes. But passion eludes her in real life—until she's offered the chance to travel back in time to Camelot. The world of King Arthur and Guinevere is nothing like she pictured, neither is the knight she encounters on her return to San Francisco: Gawain, the hero of her current project. He's complicated, mysterious, and sexier than anything her imagination could conjure. And he's been waiting for her…
Now, joined together in a desperate race, Diana and Gawain must prevent an ancient, evil force from wreaking mayhem in the all-too-real present. Diana must learn to trust Gawain—even while she encounters secrets about her own past. But even if their mission succeeds, does Diana's destiny lie with this man from another time—and will their love alter history forever?

A unique and exciting combination of time-travel and Camelot, with a sense of strong love and danger.
Excerpt
Chapter One
The machine that lowered the casket into the ground made a grinding noise. They really ought to oil the mechanism. Fog rolled in as the light faded. Diana pulled her black wool cape tighter around her shoulders. Spring in San Francisco still seemed far away in March. A guy waited in a small tractor-thing to scoop dirt back into the fresh grave over by the huge camellia bush, maybe fifty feet away from her parents' grave. Indoor-outdoor carpet was draped over the excavated pile, as if that would camouflage the finality of dirt.
She looked down at her parents' brass plaque, now three years old. They were together finally, but she was entirely alone. Would she ever find for herself the love they'd shared? The fact that you adopted me is the reason I can write romances. I knew two people Read More…