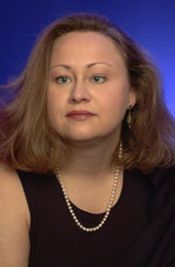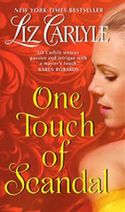 One of the ways I sustain myself while on deadline—and folks, there's a reason they call it deadline—is by making a list of all the really wonderful things I'll get to do after the book is turned in and I've slept for three days straight. I have to say, finishing ONE WICKED GLANCE really took it out of me, and now the suspense leading up to the ONE TOUCH OF SCANDAL release has me on pins and needles.
But I am surviving! And today was Day 16 post-deadline. It was time to move down the Goodie List and reward myself. I downed three cups of Café Verona, and I was psyched by 8:15. Now bear in mind that I lead a small life, so the G.L. consists of things like (1) hand prune the Burford hollies and (2) scour sales racks at Talbot's. But today I looked at the list, and saw I'd worked my way down to (11) go to Dick's and buy an exercise bike, which was right above (12) bake oatmeal cookies.
Now, I ask—which would you do?
Let me just say, in my defense, that we are in the midst of an economic recession. Oatmeal is cheap and I had a cupboard full. Never mind I haven't baked since 1998, and my oven browns funny. Never mind that my scale this morning said I was one pound over my Absolute Maximum Weight Acceptable Ever—which is 25 pounds over what I should weigh. Never mind that the recipe said spoon dough onto parchment paper. (And sadly, I thought parchment paper was something our 19th century heroes penned their love letters on . . . ) And never mind that the minute I pulled the butter out of the fridge, Stuart started hovering like the Goodyear Blimp over the Super Bowl. No, by crackity—for some reason, I wanted to bake. Or buy an exercise bike.
No, really—which would you do? And don't lie to me.
Of course my intent was to play Lady Bountiful, and give out the cookies—okay, most of the cookies—to the neighborhood kids. After four months in a dark office, it sounded like fun. So I mixed and measured and splattered until, in the midst of it all, Stuart managed to scarf up a massive glob of eggy-buttery-goo off the kitchen floor and the dough clumps were plopped out onto my fancy Pampered Chef cookie sheet. So I got busy baking, before the phone rang, I lost my tenuous train of thought, and Stuart ate the rest of the batter. (He's learned to wait for it.) I set the timer for ten minutes at 375—that's gas mark 5 for you lucky, Aga-wielding Brits—and watched through the glass in horror as my cookies puddled and oozed like bad concrete.
I was bloodied, but not beaten. Ugly, I told myself, can still taste good. I waited until the right half were golden-brown and the left half was the color of cardboard, then snatched 'em out and grabbed my spatula. And that was when I began to grasp what parchment paper was used for. Now, I can be as ruthless and determined as the next gal with a snootful of caffeine and a major carb craving. I got them loose, but ugly didn't begin to describe it. Now the notion of giving these cookies away is, of course, too embarrassing to contemplate. So I guess I'll just have to eat them myself—if I've got the stomach for it. Already I can hear Stuart upstairs in the litterbox moaning.
But enough potty-talk. Tell us, what's on your Goodie List? How do you reward yourself for good behavior? And more importantly—is your pet involved? Because tomorrow I'm putting Stuart in his kitty-harness, and we're going down to Nail-A-Rama for matching manicures.
HarperCollins and Liz are celebrating the release of ONE TOUCH OF SCANDAL (Avon, September 28th) in a very special way, for EVERY comment on our site today (9/26) a dollar ($1 USD) will be given to her favorite cat rescue organization – Cat Angels. Comment NOW Only one comment will be counted in the overall donation so tell your friends to stop by and comment! Fresh Fiction will be giving away a copy of ONE TOUCH OF SCANDAL as well!