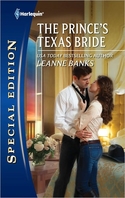 May 2011
On Sale: April 19, 2011
Featuring:
Eve Jackson; rince Stefan
224 pages
ISBN: 0373655975
EAN: 9780373655977
Paperback
$4.99
Romance Series, Romance Contemporary
Buy at Amazon.com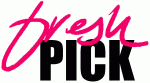 A little escape for your summer reads
The Prince's Texas Bride
by Leanne Banks
When Eve Jackson was offered her dream job—stable master for the tiny Mediterranean kingdom of Chantaine —it was an opportunity she couldn't pass up. The horses were as gorgeous as the scenery, but there was one problem: her handsome but infuriating boss, Prince Stefan.
Stefan was hell-bent on being a true ruler, unlike the generations of playboys that preceded him. But the feisty, formidable Texan he'd just hired proved quite a distraction. He'd never known a woman as challenging —or as irresistible. But this ordinary commoner was off-limits for Stefan…unless he'd finally met his royal match!
Excerpt
Day two of palace orientation and Eve's eyes were glazing over.
"Wait for His Royal Highness to address you first. Wait for His Royal Highness to extend his hand first. If you are wearing gloves when greeting His Royal Highness, you need not remove them first. Women need not wear hats before 6:30 p.m.," the elderly male adviser droned on. "Call the prince by Your Royal Highness on first meeting. Thereafter, if the conversation continues, refer to him as 'sir.' Stand whenever a royal enters the room. Never turn one's back on a royal…."
"Oh, Jonathan, give the poor girl a break," a young woman said from behind Eve.
Eve whipped her head around, spotting Princess Bridget, whom she'd met during her previous visit to Chantaine. She remembered the underlying, not-quite-buried impatience she'd sensed when she Read More… Previous Picks