Hi Y'all! I am so excited to see that summer has finally arrived.  The biggest reason?  Summer reading!  I think almost everyone I know uses summer as an excuse to dust off the bookshelves and grab those books that we have been putting off.  In the blogsphere world, summer is also the signal of amazing tours with giveaways, book exchanges, and reading groups.  Here are just a few of the really fun events going on in the blogsphere.  I hope to see you out there enjoying them!
Hosted by: Ruby Reads
Event: Summer Secret Santas
Info: The Summer Book Exchange is like Summer Secret Santas. Those who sign up for the event will be both Secret Santa and Santee. That is: they will both give and receive books from a designated wishlist.
Signups End: Jun 21st

Hosted by: Paranormal Haven and Larissa's Bookish Life
Event: Bookish Haven Summer Vacation
Info: A month long event featuring interviews, guest posts and giveaways celebrating books and summer. So far we have over 30 authors participating.
Runs: June 1st-30th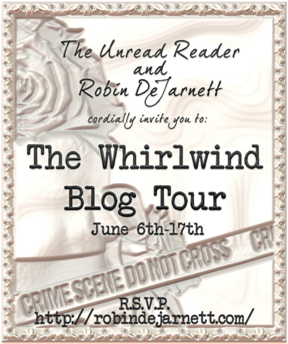 Hosted by: Missy The Unread Reader
Event: Robin DeJarnett's Whirlwind Blog Tour
Participants:
June 6 (eBook Giveaway):The Unread Reader,
June 7 (Print Giveaway):Geeky Blogger's Book Blog's,
June 8 (eBook Giveaway): A Trail of Books Left Behind,
June 9 (Print Giveaway): For What It's Worth,
June 10 (eBook Giveaway):Books and Things,
June 13 (Print Giveaway): A Tale of Many Reviews ,
June 14 (Print Giveaway): The Bookish Brunette ,
June 15 (eBook Giveaway): Supernatural Snark,
June 16 (Print Giveaway):My Love Affair with Books,
June 17 (Print Giveaway): Happily Ever After,
June 18 (eBook Giveaway): Robin DeJarnett!
Info: I will be hosting the Whirlwind Blog Tour, celebrating the debut novel by Robin DeJarnett. There will be 10 tour stops, plus a LIVE chat with the author at the end of the event.  We are also doing a Whirlwind book giveaway at every stop!
Dates: June 6th to 18th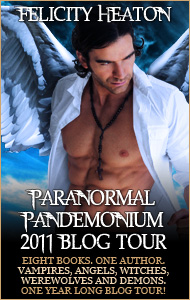 Hosted by: Felicia Heaton
Event: Felicity Heaton's Paranormal Pandemonium Blog Tour
Participants: Several Check out the Calendar for Tour Dates/Stops: Tour Calendar
Info: Paranormal Pandemonium 2011 Blog Tour. Eight Books. One Author. Vampires, witches, werewolves, angels and demons. One year long book tour!
Dates: March 2011-December 2011
Goodreads Book Clubs:
Bodice Rippers Readers Anonymous is reading/discussing in June: SURRENDER TO LOVE by Rosemary Rogers (Published 1982)
Book Bloggers Anonymous is reading/discussing PLEASURE UNBOUND by Larissa Ione
Reading with Tequila Book Club is reading/discussing FAST WOMEN by Jennifer Crusie
I am sure July will be even busier so keep your eyes peeled to Fresh Fiction for info!  Until next month…..
Felicia, the Geeky Book Blogger
Visit Felicia at her blog, GeekyBloggersBookBlog.com/