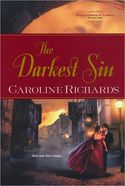 Do you want to know how much I love Rowena and Rushford, the couple in THE DARKEST SIN? I love them so much that to celebrate the publication of their story, readers can win a romantic weeken for two in London, England. Other than reading THE DARKEST SIN, the next best thing is being there — in London, soaking up the passion and intrigue that lingers around every corner of that historical city.
So please tell me, if you win the trip — how would you spend your time?
To comment on Caroline Richards's blog please click here.