February 2005
Featuring:
Kate Hamilton; Rob Sutter
352 pages
ISBN: 0060009268
EAN: 9780060009267
Paperback
$6.99
Contemporary, Romance
Buy at Amazon.com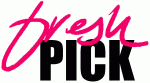 Best romantic comedies week, with a Valentine twist
The Trouble With Valentine's Day
by Rachel Gibson
Kate Hamilton should know. Dumped by her boyfriend, stressed out by her job, she's returned to Gospel, Idaho, for some rest and small-town fun. But when her first attempted seduction of a hunky stranger is completely rejected, she wonders what else could go wrong?
Well, for starters, she quickly realizes that the Mountain Momma Crafters' original poetry readings is about as good as it gets on a Friday night. Then she comes face-to-face with Rob Sutter, former ice hockey madman, owner of Sutter Sports–and the hunky stranger who told her to get lost.
Rob's been more than burned by love–but then he and Kate find themselves in an ultra-compromising position in the M & S Market after hours, giving the phrase "clean-up in aisle five" a whole new meaning, and causing a whole lot of gossip in Gospel…

Cleverly written, fun-filled romantic escape.
Excerpt
Just like the first time she'd seen him, she wondered if thinking about the man had conjured him up. Only this time, there were no warm tingles. Just that funny feeling in her head like she might faint.
She was sure he was recalling every detail of the night she'd propositioned him. Then night he'd made his rejection of her look like the easiest thing he'd ever done.
"This is Rob Sutter," said Kate's grandfather, over the buzz in her ears. "Rob, this is my only granddaughter, Katie Hamilton. I don't believe you've met."
The silence between them seemed to stretch forever as she waited for him to imform her grandfather that they had already met. To tell him his granddaughter was a drunk…or worse.
"No. We haven't met" he said. A curious Read More…