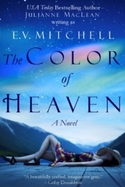 I have a story to tell you about having a dream and not giving up, no matter how many times you get knocked down.
Most of you know me as a historical romance writer.  Over the past 11 years, I've written 15 historicals for three different publishers, so I think it's safe to say I've been branded as a certain kind of writer.
Occasionally, however, a writer needs to step out of the box, and it can be both exciting and nerve-wracking to venture into risky, untried territory.  I know this for a fact, because I have just released my first women's fiction mainstream contemporary novel, THE COLOR OF HEAVEN – and let me tell you, it was a good lesson about perseverance, because I had a very hard time selling it.
I first came up with the concept for the book six years ago, because I've always been fascinated by near-death experiences and the question about what lies on the other side of this life.
My interest in the subject grew after a serious car accident at the age of twenty-five.  Somehow, miraculously, I survived a horrendous wreck and walked away without a scratch. I'm still not sure why I was so lucky, but there are some things we just need to accept and be grateful for.
Ever since, I have cherished my existence on this planet and have recognized the fact that every day is precious.  I've had a few hard knocks in my life, and have come to realize that we all have hurdles to conquer and a destiny to fulfill.  We have a responsibility to keep going when the road is rough, and to reach our full potential, no matter what that potential might be.
What are your dreams and goals and talents?  Have you figured them out yet?
If you have, I applaud you.  If you haven't, I believe that you will.  Something will happen in your life (or has already happened) that will give you greater understanding about what you are capable of, how strong you are, and how you can find your bliss.
I believe the proper word for that is legacy.  No matter who you are or what you do, you are going to leave something behind, and you are going to struggle a bit along the way as you figure out what that legacy is.  What will your footprint look like?
I wanted very much to write a story about a woman who doesn't know the answer to that question, but discovers it through her own challenges and heartbreaks.  She, too, is knocked about quite violently in life.  She suffers incredible loss.  Even after she skids her car off an icy road and plunges into a frozen lake, she chooses to reflect upon her past and learn all that she can in order to move forward.  There are times she wants to give up, but she doesn't.  Even the face of death doesn't stop her.
She recognizes, and is grateful for, the gifts she has been given, and steps into the future with courage and an appreciation for this glorious gift called life.
You have been knocked down, too.  I am sure of it.  We all have.  Getting up is the important part.  Keep learning, keep growing, keep fighting.
In honor of this, I have a special offering for everyone who has stayed with me and read this far.  THE COLOR OF HEAVEN is available for FREE at Smashwords for one week only, with the following coupon code: AV93F.  Expiry date is Monday Feb 14, 2011.  Please share this coupon with your friends on any blogs or message boards where readers like to take advantage of free books that are offered legally for download, and are not pirated.
I invite you also to visit my website at www.evmitchell.com, where you can read more about my rough and bumpy journey to the publication of THE COLOR OF HEAVEN.
Thanks for joining me today.   I encourage you to follow your dreams and never give up.
Julianne MacLean / E.V. Mitchell
To comment on Julianne's blog please click here.