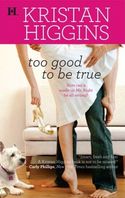 February 2009
On Sale: February 1, 2009
Featuring:
Grace Emerson; Callahan O'Shea
384 pages
ISBN: 0373773552
EAN: 9780373773558
Mass Market Paperback
$6.99
Romance Contemporary
Buy at Amazon.com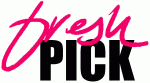 Congrats! The 2010 RITA Winner for Best Contemporary Single Title Romance
Too Good To Be True
by Kristan Higgins
How can a made-up Mr. Right be all wrong?
When Grace Emerson's ex-fiancé starts dating her younger sister, extreme measures are called for. To keep everyone from obsessing about her love life, Grace announces that she's seeing someone. Someone wonderful. Someone handsome. Someone completely made up. Who is this Mr. Right? Someone…exactly unlike her renegade neighbor Callahan O'Shea. Well, someone with his looks, maybe. His hot body. His knife-sharp sense of humor. His smarts and big heart.
Whoa. No. Callahan O'Shea is not her perfect man! Not with his unsavory past. So why does Mr. Wrong feel so…right?

Looking for Mr. Right is a full time job!
Excerpt
"And so with this one act, Lincoln changed the course of American history. He was one of the most despised figures in politics in his day, yet he preserved the Union and is considered the greatest president our country ever had. And possibly ever will have."
My face flushed… we'd just begun our unit on the Civil War, and it was my favorite class to teach. Alas, my seniors were in the throes of a Friday afternoon coma. Tommy Michener, my best student on most days, stared longingly at Kerry Blake, who was stretching so as to simultaneously torment Tommy with what he couldn't have and invite Hunter Graystone IV to take it. At the same time, Emma Kirk, a pretty, kindhearted girl who had the curse of being a day student and was thus excluded from the cool kids, who Read More…