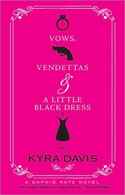 Sophie Katz #4
June 2010
On Sale: May 25, 2010
Featuring: Sophie Katz
400 pages
ISBN: 0778327892
EAN: 9780778327899
Paperback
$13.95
Contemporary Chick Lit, Thriller
Buy at Amazon.com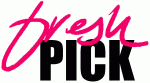 Vows, Vendettas and a Little Black Dress
by Kyra Davis
Overjoyed at Maryanne's engagement, amateur sleuth Sophie Katz can't wait for the wedding vows and party toasts to begin. But then Dena—best friend, bridesmaid and all-around vixen—is mysteriously shot just after the announcement. Leave this to the authorities? No way. Dena may never walk again, and Sophie vows to marry her fists with the shooter's face.
Problem is, the number of suspects is off the charts—from jaded lovers to anti-free-lovers to just plain old haters. Dena's made plenty of enemies thanks to her popular sex shop—and, yes, she's no saint—but really, who deserves to be shot?
With an überlogical almost boyfriend condemning her vigilante quest, and a wedding planner going vicariously bridezilla over the dream princess wedding, Sophie's barely thinking straight. But if she can keep her cool (and avoid all errant taffeta), she just might nab her man and save the (wedding) day.
Big if.

A cute, quirky, witty tale of a very unconventional group of close-knit friends.
Excerpt
Sunday: May 6th, 10:00 PM
Like most people I have two families. The family I was born into and the family of friends that I've chosen for myself. That's normal. It also shouldn't surprise you to learn that my family is sort of crazy because that's exactly what everybody else says about their own family. I mean really, telling people that your family is on the whacky side is right up there with confessing to being moody right before your period. It's so commonplace it's barely worth mentioning.
So if your family's like mine and you don't want to spend your life surrounded by head cases there is only one clear course of action. Choose sane friends.
I didn't take that route. All my friends are completely mad. You wouldn't be Read More…