Well, summer is well and truly upon us and what better way to pass these glorious, sun-filled days than with a lively and fun cozy mystery! June features a bumper-crop of our favorite genre, with more great titles due out in July and August. Fill up your beach bag or your suitcase with your favorite author and take their stories along with you on vacation this summer!
Dive in with me to explore these new titles!
Paddling around at the swallow end of the pool are three new series debuting this month.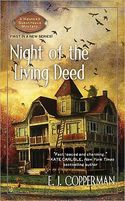 NIGHT OF THE LIVING DEED: A Haunted Guesthouse Mystery by E.J. Copperman features Alison Kerby and her smart, sassy 9-year old daughter Melissa. After moving into a huge old Victoria house in her hometown of Harbor Haven, New Jersey (on the Jersey Shore) that she plans to convert into a guesthouse, Alison discovers that she and her daughter aren't the only residents of the house – two feisty ghosts, named Paul and Maxey, are in residence and they want Alison to find out who murdered them. This promises to be a delightful series! (Copperman also writes the Double Feature Mysteries and Aaron Tucker Mysteries as Jeffrey Cohen.)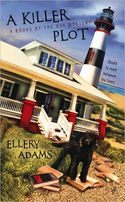 Another first-time series set along the Eastern shore is A KILLER PLOT: A Books By The Bay Mystery by Ellery Adams. Set in Oyster Bay, North Carolina, this series features Olivia Limoges, a rich but dissatisfied former resident who has returned to her hometown in search of inspiration. She finds kindred spirits with the eccentric Bayside Book Writers group, and hopes they can help her overcome her writer's block. But when she finds the body of a fellow writer whose killer left a cryptic haiku poem nearby, Olivia takes it upon herself to find out who is terrorizing her new friends. A great start for a new series!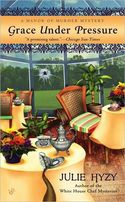 The name Julie Hyzy is no stranger to cozy mystery fans who enjoy her White House Chef Mysteries and the Alex St. James "Deadly" series. Her latest book, GRACE UNDER PRESSURE is the first in her new series, the Manor House Mysteries. Grace Wheaton had always wanted to work at Marshfield Manor, and was thrilled when she is appointed curator after the death of the former one. But when her boss, the eccentric Bennett Marshfield, begins receiving threatening letters, it's up to Grace to discover just who has it in for her beloved Manor.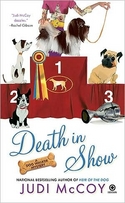 Dog- paddling around the pool is a charming new installment in Judi McCoy's Dog Walker Mystery series, DEATH IN SHOW. Ellie Engleman, dog-walker extraordinaire, has been invited to the Mid-Atlantic Canine Challenge Dog Show as the guest of one of her regular customers, Flora Steinmann, owner of Lulu. When Lulu's handler, Arnie Harris, dies unexpectedly, Ellie is asked to step in to show Lulu at the show. When it appears that Harris died unnaturally, Ellie's curiosity and her special ability to talk with her canine pals has her doing a little investigating of her own, much the chagrin of her boyfriend, Detective Sam Ryder.
Judi McCoy is well- known for her hilarious romances, and her Dog Walker Mysteries are just as entertaining and spirited.
Back-stroking into their sophomore books of their series are two wickedly clever authors whose series proved to be big hits with fans.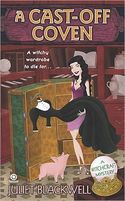 An expert in vintage clothing, as well as being a smart little witch, Lily Ivory is the star of Juliet Blackwell's second book, A CAST-OFF COVEN: A Witchcraft Mystery. When the body of a wealthy patron of San Francisco's School of Fine Arts is found, Lily is called in to see if there is anything paranormal connected to the murder in exchange for a trunk full of Victorian-era clothing found in the school's storage. But there is something not right with these garments and it's up to Lily to use her witchy-skills to find out what spell has been cooking! A charmingly spooky mystery! (Blackwell also writes the Art Lovers Mysteries series as Hailey Lind)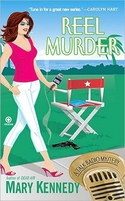 Real- life psychologist Mary Kennedy returns with the second book in her Talk Radio Mysteries, REEL MURDER. Maggie Walsh is settling into her new job as talk-show host/psychologist in Cypress Grove, Florida, but her ratings are just not quite up to par. So when a new movie comes to town to shoot, her producer decides that a few interviews would help win a few more listeners. But Maggie soon finds the set is chaotic with secrets, vendettas, and murder – and if she doesn't find out who the killer is, she might be next! This is a clever, snappy mystery series that keeps readers on the edge of their seats and well entertained.
And finally, relaying-racing their way across the pool to the finish line are four veteran cozy mystery authors with highly anticipated additions to their vast writing collections.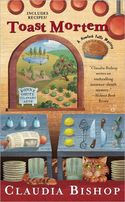 TOAST MORTEM: A Hemlock Falls Mystery by Claudia Bishop finds sisters Quill and Meg Quillam up to their necks in murder, mayhem and haute cuisine as the murder of a cooking school's diva chef/instructor threatens Hemlock Falls' peaceful existence. It's up to the sisters to find out who cooked the chef's goose. This is the sixteenth book in Bishop's tasty series that includes some of the most luscious sounding recipes I've ever read.
(Bishop also writes the Beaufort & Company Mysteries series as Mary Stanton.)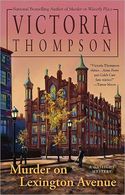 If period history mysteries are your thing, Victoria Thompson's Gaslight Mystery Series, set in 1900's New York, are right up your alley. Her latest book, MURDER ON LEXINGTON AVENUE, the 12th in the series, pairs Detective Sergeant Frank Malloy and midwife Sarah Brandt together again as they combine their talents to solve a murder committed at the New York Institute for the Deaf and Dumb. A fascinating subject, a fascinating time-period, and a dandy of a story!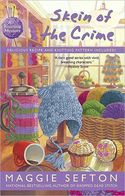 It's never to hot to knit at the House of Lambspun in Fort Connor, Colorado. The clues are all stitched up in Maggie Sefton's eighth Knitting Mystery novel, SKEIN OF THE CRIME. Kelly Flynn adores new students to her cozy knitting shop, but when one of her students is found dead on the trail nearby, Kelly takes it upon herself to do a little sleuthing to see who would want to harm a peaceful knitter. Reading Sefton's knitting mysteries are like visiting old friends, and the addition of a delicious Carrot Cake recipe plus a cute scarf knitting pattern makes the experience all that much pleasurable.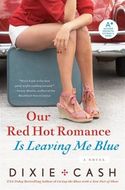 And last, but certainly not least, is Dixie Cash's sixth installment of her Domestic Equalizer Mystery series, OUR RED HOT ROMANCE IS LEAVING ME BLUE. Sassy Texas gals Debbie Sue Overstreet and Edwina Perkins-Martin not only share ownership in the best hair-salon in West Texas, but they do their fair share of sleuthing as the Domestic Equalizers, their private detective agency. When Justin Sadler comes to them with stories of mysterious occurrences since his wife's recent death, Debbie Sue and Edwina set out to find who is messing with Justin's mind! Add in an El Paso psychic along with the rooting-tooting friends, and you have one heck-of-a-good time mystery!
I hope you found something that will fit in swimmingly with your summer reading plans among this month's choices. Be sure to stop back by June 15th when I'll be interviewing Air Force mom and fellow Texas author Sara Rosett!
Until then, cozy reading, ya'll! (And don't forget your sun-screen!!!)
---
Sharon Chance has been a freelance entertainment journalist for the past fourteen years. As a regular contributor to the Wichita Falls Times Record News, she has written well over 1,600 articles covering everything from concert and movie reviews to museum openings to interviewing some of the top musicians performing today, including members of Bon Jovi and Guns and Roses.
But her true love lies in the world of books. A voracious reader from a young age, Sharon began reviewing books at the urging of her sister-in-law, who was a big fan of the Oprah Winfrey Book Club. What began as a simple fun attempt at sharing her views of books she enjoyed has developed into a work of passion for Sharon. In addition to being a senior book reviewer for the Times Record News, Sharon is also a regular guest contributor for the Las Vegas Review Journal's Book Nook, as well as having written for several other publications.
A distant relative of the great Edgar Allan Poe, Sharon has a fondness for mysteries, especially those of the cozy kind. In her new column, Sharon's Cozy Corner, Sharon hopes to bring news of the latest in the cozy mystery genre, as well as insightful interviews with the authors who write them.