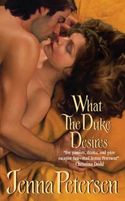 The Billingham Bastards #1
November 2009
On Sale: October 27, 2009
Featuring: Lillian Mayhew; Simon Crathorne
384 pages
ISBN: 0061470821
EAN: 9780061470820
Mass Market Paperback
$6.99
Romance Historical
Buy at Amazon.com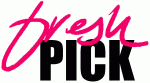 What The Duke Desires by Jenna Petersen
Simon Crathorne has never felt quite "right" in his own life. Even with his friends, he never fit. But now his father is dead and he has inherited the Dukedom, and all the responsibility that goes with it. And since his father was always known as a highly moral, upstanding man, Simon has big shoes to fill. Lillian Mayhew doesn't buy the late Duke's exalted reputation one bit. A lifetime of hearing her father talk about the man's sins and seeing the torment her family endured at his hands has made her bitter and a final secret she discovered as her father lay dying has turned her bitterness to a drive to destroy the good name of the man she feels wronged her. No matter the price.
But when Simon and Lillian meet, sparks fly and passion erupts, leaving Lillian with an ugly choice. Can she abandon her quest for revenge, just as she is on the cusp of fulfilling her duty? Or will she betray a man whose past turns out to be a murky sea of lies and betrayals neither one could have ever anticipated? A man whose kiss could change her life forever.

Grab your tissues while reading this emotional novel, then be prepared for a shocking surprise.
Excerpt
"There are at least a dozen beautiful women here, Simon." She flushed as she realized her slip. It seemed her private use of his given name had instilled bad habits in her. "Your Grace."
But a light of triumph had already brightened his eyes. Her use of his name was only encouragement to him.
She hastened to add something else, to counteract her inappropriate statement with a fact that would crush his interest.
"Those other women are far more appropriate than I am, as well," she finally whispered. "If you are on this path to court me, I would bring nothing to you, Your Grace. No money, no alliance with a powerful family, in fact my connections would bring you down in the estimation of some. I did not come here to pursue that kind of connection to you, I have no illusions that Read More…