Fresh Pick for Monday, March 14th, 2016 is WHEN FALCONS FALL by C.S. Harris
#SuspenseMonday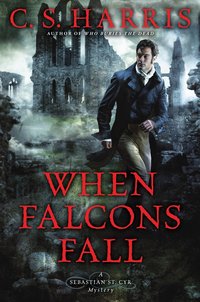 The much-anticipated new entrée in the Sebastian St. Cyr "simply elegant"* historical mystery series, from the national bestselling author of Who Buries the Dead and Why Kings Confess.
Ayleswick-on-Teme, 1813. Sebastian St. Cyr, Viscount Devlin, has come to this seemingly peaceful Shropshire village to honor a slain friend and on a quest to learn more about his own ancestry. But when the body of a lovely widow is found on the banks of the River Teme, a bottle of laudanum at her side, the village's inexperienced new magistrate turns to St. Cyr for help.
Almost immediately, Sebastian realizes that Emma Chance did not, in truth, take her own life. Less easy to discern is exactly how she died, and why. For as Sebastian and Hero soon discover, Emma was hiding both her true identity and her real reasons for traveling to Ayleswick. Also troubling are the machinations of Lucien Bonaparte, the estranged brother of the megalomaniac French Emperor Napoleon. Held captive under the British government's watchful eye, the younger Bonaparte is restless, ambitious, and treacherous.
Sebastian's investigation takes on new urgency when he discovers that Emma was not the first, or even the second, beautiful young woman in the village to die under suspicious circumstances. Home to the eerie ruins of an ancient monastery, Ayleswick reveals itself to be a dark and dangerous place of secrets that have festered among the villagers for decades—and a violent past that may be connected to Sebastian's own unsettling origins. And as he faces his most diabolical opponent ever, he is forced to consider what malevolence he's willing to embrace in order to destroy a killer.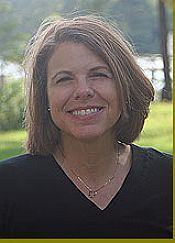 Candice Proctor, aka C.S. Harris and C.S. Graham, is the bestselling, award-winning author of more than a dozen novels including the Sebastian St. Cyr Regency mystery series written under the name C.S. Harris, the new C.S. Graham thriller series co-written with Steven Harris, and seven historical romances. She is also the author of a nonfiction historical study of the French Revolution. Her books are available worldwide and have been translated into over twenty different languages.
Candice graduated Phi Beta Kappa, summa cum laude with a degree in Classics before going on to earn an MA and Ph.D. in history. A former academic, she has taught at the University of Idaho and Midwestern State University in Texas. She also worked as an archaeologist on a variety of sites including a Hudson's Bay Company Fort in San Juan Island, a Cherokee village in Tennessee, a prehistoric kill site in Victoria, Australia, and a Roman cemetery and medieval manor house in Winchester, England. Most recently, she spent many years as a partner in an international business consulting firm.
The daughter of a career Air Force officer and university professor, Proctor loves to travel and has spent much of her life abroad. She has lived in Spain, Greece, England, France, Jordan, and Australia. She now makes her home in New Orleans, Louisiana, with her husband, retired Army officer Steve Harris, her two daughters, and an ever-expanding number of cats.
The Fresh Pick is chosen by a group of readers and is never a purchased advertisement or promotion. We've picked this book because it appeals to us and we like to share our diverse tastes in reading and hope you'll give it a try.