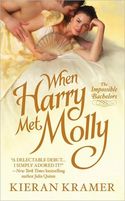 Impossible Bachelors #1
November 2010
On Sale: November 2, 2010
Featuring:
Molly Fairbanks; Harry Traemore
432 pages
ISBN: 0312611641
EAN: 9780312611644
Mass Market Paperback
$7.99
Romance Historical
Buy at Amazon.com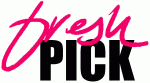 Best First Historical (RT Book Reviews 2010 Reviewers Choice)
When Harry Met Molly
by Kieran Kramer
Dashing Lord Harry Traemore is perfectly content to live out his days in the pursuit of pleasure. But when he's named by the Prince Regent as one of society's "Impossible Bachelors," Harry is drafted into a ribald romantic wager. The rules of engagement are scandalously simple: The bachelor whose mistress wins the title of "Most Delectable Companion" gets to remain unmarried. Harry is utterly unconcerned about his status…until his latest lightskirt abandons him.
Enter Lady Molly Fairbanks. Harry's childhood friend— actually, "foe" is more like it—is the most unlikely companion of all. She's attractive but hot-headed, and in no mood for games. Besides, what could the self-indulgent Harry possibly know about what makes a woman delectable? It's time for Molly to teach him a lesson once and for all…but will it lead to "happily ever after"?

A delightfully clever and amusing story filled with surprising antics.
Excerpt
CHAPTER 1
June 1816
Lord Harry Traemore knew the man next to him in the private room at his club in London—Lord Wray, who'd slithered to the floor and begun snoring—might appear to most passersby to be passive, even sleeping. But Harry and his old schoolmates from Eton, their reasoning skills gently manipulated by rather copious amounts of brandy, realized this prone position of Wray's was actually his attempt to bravely endure his fate.
After all, Wray was to be married in the morning. And everyone knew his future wife was . . .
Exactly like his mother.
"I'm sad," Harry's friend Charles Thorpe, Viscount Lumley, said, an empty snifter dangling from his hand. "A good friend's freedom is being taken away."
Lumley was rich as Croesus, with the most Read More…