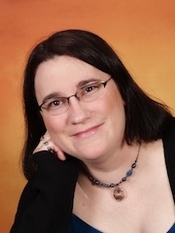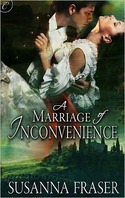 When a reader asks me what my new novel, A MARRIAGE OF INCONVENIENCE, is about, I usually say, "It's a Regency Cinderella tale," or, if they seem like they want a slightly longer answer, "A historical romance about a marriage of convenience that's almost destroyed when the bride's family secrets come out." But the real answer is "control freaks in love."
James Wright-Gordon, my hero, is a wealthy viscount who inherited his title at the age of 15 and came into full control of his estates, fortune, and political birthright in the form of a seat in the House of Lords at 21. He doesn't know what it's like to NOT have power, and he's confident enough about his intelligence and view of the world to have no qualms whatsoever about wielding it.
Because he really IS smart and well-intentioned, 90% of the time he uses his powers for good. Everyone from the tenants on his estate to his wife's impoverished relatives are better housed, fed, and educated because James is so eager to decide how to improve their lives and then spend the money to make it happen. Heck, he'll leave England itself a better place than he found it because he can't see an injustice, or even a mere inefficiency, without feeling a compulsive drive to use the money and influence he inherited to fix it.
But the trouble is he doesn't know where to stop. When he tries to dictate first to his younger sister and later to his new wife on matters of the heart, it only leads to heartbreak…and forces James to learn that no man is rich, powerful, and clever enough to control his whole world.
As for my heroine, Lucy Jones, on the surface she looks like James's total opposite when it comes to control. She was orphaned as a young child and taken in by wealthy relatives who never let her forget she was an object of charity. Before her parents died, she was a proud, high-spirited child who enjoyed the power she had as eldest of a large brood of brothers and sisters. But when typhus carried off both her parents and all but two of her siblings, she realized the only way to protect herself and her baby brothers was to become what her aunt and uncle expected her to be–i.e. meek, mild, and subservient. Since that wasn't her natural personality, the only way she could manage was by forcing herself to far greater self-control than comes naturally to a 9-year-old child.
By the time we meet her as a young woman, Lucy's habits of self-control are so ingrained that she's forgotten how to relax–which causes all kinds of trouble in the early days of her marriage. James wants a free-spirited, fun-loving wife who will uninhibitedly take all the pleasures he has to offer her–especially those of the bedroom–and Lucy has no idea how to be that woman.
Solving their problems takes trust, learning to overcome betrayal…and, as they each explore the limits of what they can and can't control, some experiments with what we'd call kink.
Are you a control freak? Can you think of other characters in fiction who are–whether they admit it or not? Comment for a chance to win a copy of A MARRIAGE OF INCONVENIENCE.
To comment on Susanna Fraser's blog please click here.