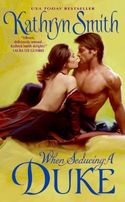 October 2009
On Sale: September 27, 2009
Featuring:
Rose Danvers; Greyden Kane
384 pages
ISBN: 0061340294
EAN: 9780061340291
Mass Market Paperback
$6.99
Romance Historical
Buy at Amazon.com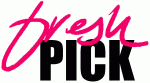 When Seducing a Duke by Kathryn Smith
Enchant. Tempt. Entice. Beguile. Just a few things a woman must do when seducing a duke . . .
Rose Danvers charms her way into the glittering masked ball with only one man on her mind. She would risk certain scandal for a kiss from Greyden Kane, Duke of Ryeton—though she lusts for much, much more . . .
The ravishing woman in burgundy takes Grey's breath away. She reminds him of the sheltered beauty entrusted to his care, the only one who has ever touched his icy heart. But Rose would never allow herself to be so indiscreet, so ruled by passion . . .
Believing their forbidden embrace a terrible mistake, Grey knows he must do the honorable thing and find Rose a husband. But Rose will not be pawned off for propriety's sake. She will not rest until her seduction is complete and she has the duke bedded, wedded, and deeply satisfied. All he has to do is say yes . . .

These two have a bumpy journey to make toward redemption and happiness.
Excerpt
What the hell was he doing? He asked himself this very same question every time he came here. And he never liked the answer.
He was here because he wanted what he couldn't have – what he had promised to never touch. Would never dream of defiling.
Laughter echoed in his ears – loud and unwelcome. It stirred memories of that night long ago when he'd felt cold steel lay open the steaming warmth of his cheek. It reminded him that he was alone while more than a hundred people gathered beneath him, just out of his reach. He didn't like people, and that feeling only intensified when they gathered in groups like vultures hovering over a dying stag.
If he didn't find her soon, he would have to leave. Find relief in more auspicious and unsavory environs.
And Read More…