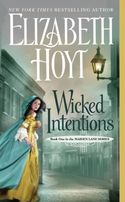 Maiden Lane #1
August 2010
On Sale: August 1, 2010
Featuring:
Lazarus Huntington, Lord Caire; Temperance Dews
400 pages
ISBN: 044655894X
EAN: 9780446558945
Mass Market Paperback
$6.99
Romance Historical
Buy at Amazon.com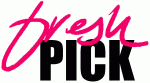 A 2010 Fresh Fiction Favorite Read. "Not to be missed"
Wicked Intentions
by Elizabeth Hoyt
A MAN CONTROLLED BY HIS DESIRES . . .
Infamous for his wild, sensual needs, Lazarus Huntington, Lord Caire, is searching for a savage killer in St. Giles, London's most notorious slum. Widowed Temperance Dews knows St. Giles like the back of her hand-she's spent a lifetime caring for its inhabitants at the foundling home her family established. Now that home is at risk . . .
A WOMAN HAUNTED BY HER PAST . . .
Caire makes a simple offer-in return for Temperance's help navigating the perilous alleys of St. Giles, he will introduce her to London's high society so that she can find a benefactor for the home. But Temperance may not be the innocent she seems, and what begins as cold calculation soon falls prey to a passion that neither can control-one that may well destroy them both.
A BARGAIN NEITHER COULD REFUSE

An arousing and enthralling romance not to be missed!
Excerpt
London, England
February , 1737
A woman abroad in St. Giles at midnight was either very foolish or very desperate. Or, as in her own case, Temperance Dews reflected wryly, a combination of both.
"'Tis said the Ghost of St. Giles haunts on nights like this," Nell Jones, Temperance's maidservant, said chattily as she skirted a noxious puddle in the narrow alley.
Temperance glanced dubiously at her. Nell had spent three years in a traveling company of actors and sometimes had a tendency toward melodrama.
"There's no ghost haunting St. Giles," Temperance replied firmly. The cold winter night was frightening enough without the addition of specters.
"Oh, indeed, there is." Nell hoisted the sleeping babe in her arms higher. "He wears a black mask and a harlequin's motley and carries a wicked sword Read More…